Disclosure: Top10VPN is editorially independent. We may earn commissions if you buy a VPN through links on our site.
Not a trustworthy VPN
Logging & Jurisdiction
ZPN has an untrustworthy logging policy, a dangerous UAE jurisdiction and shady ownership.
ZPN is made by a company called Vostock Soft FZC.
The company only appears to have produced two products, ZPN and another now discontinued VPN named VPN Easy – which was an Android exclusive.
According to the ZPN website, Vostock Soft FZC is based in the Free Trade Zone of Ras Al Khaimah, an emirate north of Dubai often simply referred to as RAK city.
We've seen some claims that Vostok Soft FZC it is owned by a man named Zlatan Mihail, from Nurenberg in Germany, but have been unable to confirm this.
The blogs on the ZPN website are written under the name Richard, but this doesn't mean much.
There is also no record of Vostok Soft FZC on any business registers. We did find a security company named Vostok Trading based in RAK. It is unclear whether the two are connected, though.
On the Google Play App Store, ZPN's address is listed as just: "ZPN APPS".
In short, this is very shady behavior. ZPN has gone beyond simply neglecting to inform its users – it is actively trying to hide the identity and location of its business operation and owners.
ZPN's lack of transparency means that it is difficult to confirm that the VPN is even based where it claims – although it is hard to imagine someone lying about being located in such a bad jurisdiction for a VPN.
The UAE has harsh surveillance laws, and within the country using a VPN is punishable with huge fines.
Why somebody would choose to locate their VPN company in a jurisdiction so hostile to privacy is mystifying (unless it's low tax rates, not the UAE's approach to data privacy, that make it appealing).
Regardless, ZPN being situated in the UAE means your data could be in jeopardy if you use the VPN. As ZPN itself states: "The company cannot be compelled to hand over information which it does not have."
This means that ZPN's logging policy, and whether you can trust the company to follow that policy, are both really important.
Logging Policy
ZPN's privacy policy is a mixture of bad and good, and far too limited for comfort.
The section on personal information collection states:
Not collecting anything other than an email address sounds great. In practice, though, it doesn't make much sense. To be technically functional, a VPN needs to see your IP address.
We suspect this is only describing what ZPN will do with your signup data, not what it will do once you're using the VPN service. If this is the case it's a good policy, but does not tell the whole story.
More concerning is ZPN's approach to working with the UAE government:

Of course ZPN has to follow the law of its jurisdiction, but its jurisdiction just happens to take an authoritarian approach to media and information.
There's more information in ZPN's Terms of Service, though.
Compared to what we've seen so far, the logging section of this document looks fleshed out, coherent and appropriate:

Until you realise it's been copied and pasted, that is.
A quick Google search for this section reveals dozens of small VPNs with identical logging policies: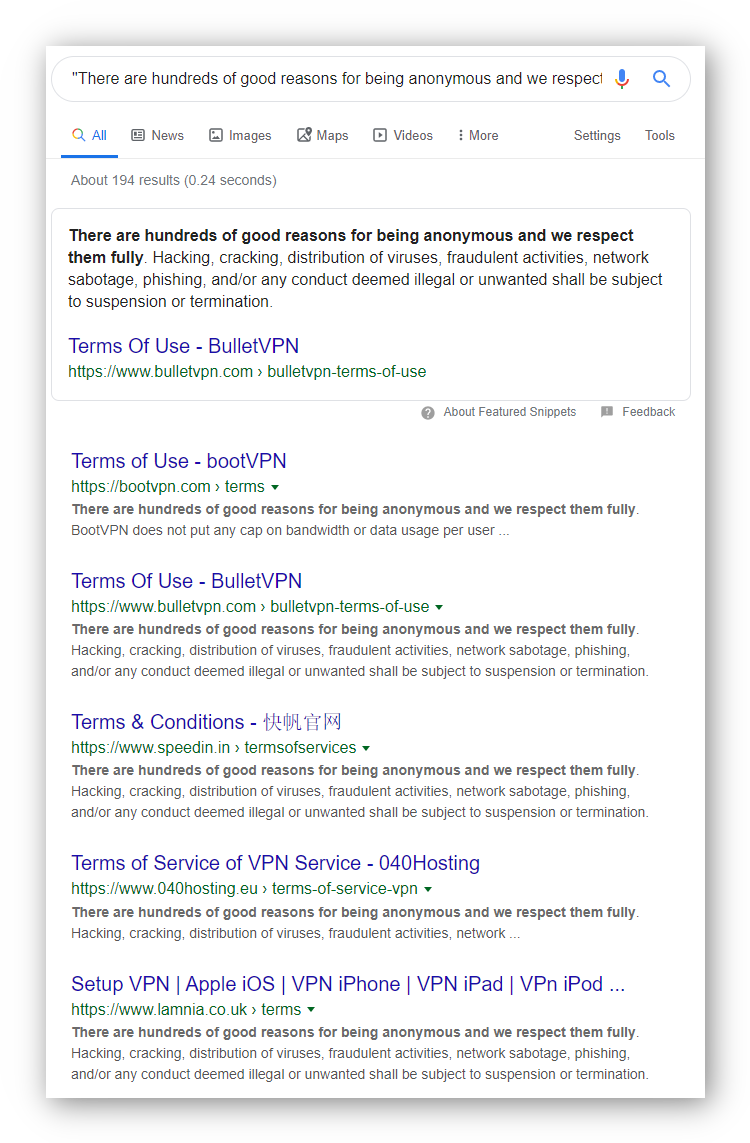 The vital question is this: can you trust ZPN to enact this policy? Is a copy and paste job enough to convince you to send your data into the heart of one of the least privacy friendly nations on earth?
We aren't convinced that it is.
We don't see any reason you should trust a company that works to hide its identity, and hasn't even written an original privacy policy, with your data.
ZPNs logging policy is inconsistent and littered with plagiarism. There are a few red flags but most of all we don't believe you can trust the company to stick to its claims.
Even if ZPN's performance weren't terrible, its logging policy and jurisdiction alone would be enough not to use it.
Read on to find out all about that terrible performance.
Throttled speeds are uniformly bad
Speed & Reliability
Speeds are actively throttled on this slow service
Don't expect to be impressed by ZPN's speeds: it is one of the slowest VPNs we have ever encountered.
Even for a free VPN its performance is consistently terrible.
Local Speed Test results before using ZPN Free:
Download Speed: 95.64Mbps
Upload Speed: 98.26Mbps
Ping: 7ms
Local Speed Test results with ZPN Free:
Download Speed: 9.38Mbps
Upload Speed: 1.81Mbps
Ping: 14ms
Download speed loss when ZPN Free is running: 90%
At the very least ZPN is consistent. Consistently bad.
We got a 90% drop in download speed from every server location except Canada and the US, which got 91% and 93% drops respectively. Upload speed dropped by 98% at every location.
This is because ZPN free actively throttles your speeds.
These are the results of our global speed tests, carried out from our test lab in London, UK:
USA: 6.17Mbps (download) & 1.58Mbps (upload)
Germany: 9.48Mbps (download) & 1.73Mbps (upload)
Netherlands: 9Mbps (download) & 1.77Mbps (upload)
Canada: 7.83Mbps (download) & 1.49Mbps (upload)
The fact that these speeds are both so poor and so consistent strongly indicates they are being artificially restrained. Either way, you can expect terrible performance from ZPN around the globe.
Europe and North America Only
Server Locations
The ZPN website claims it has 926 servers around the world. This might be true for the premium version of the app, but the free version is running on a fraction of this.
Undisclosed number ofIP Address
There are seven server locations to choose from on the free app: the UK, the US, Canada, Netherlands, France, Germany, and Italy.
This isn't terrible if you're based in North America or Western Europe, but for users in the Middle East, Asia, South America, Africa, or anywhere else this is terrible coverage.
The small server network also means you won't be able to access geo-restricted content from countries like Japan, Norway, or Brazil.
Not that the VPN is particularly good at unlocking content in the countries it does cover.
iPlayer works but is painfully slow
Streaming
ZPN works with BBC iPlayer and little else
You won't get much streaming done with ZPN.
Netflix didn't work on any of the free servers at all.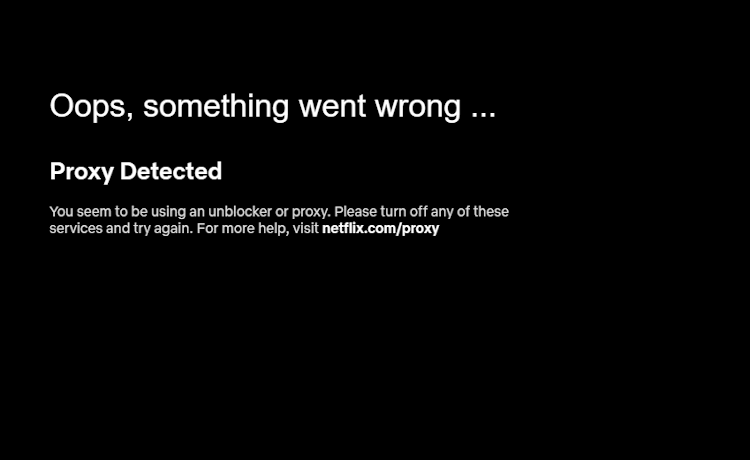 ZPN does get access to BBC iPlayer, though, which is common for small VPN providers but still a bonus.
The 10GB data allowance is generous for a free VPN, and it should make streaming a real option.
But there's a problem.
ZPN's speeds are far too bad to stream anything smoothly.
Torrenting is blocked
Torrenting
ZPN blocks P2P traffic on all free servers, making it impossible to torrent with the service.
When we first saw ZPN has a 10GB data limit, we were optimistic.
Many free VPNs have tiny data allowances which rule out torrenting, but this higher cap might make it a contender.
Unfortunately ZPN is not a good VPN for torrenting.
It has one of the most confusing policies towards P2P traffic we've ever encountered:

So ZPN forbids the sharing of copyrighted material but also allows it, and it "forbids its clients to refrain from such activities" (emphasis ours).
We have no idea what ZPN are saying in this statement.
This muddled effort makes good reading but won't really impact customers on the free app (besides putting them off from giving ZPN any money), because all of ZPN's P2P servers are restricted to its premium service.
Even if ZPN free were to allow P2P traffic, its throttled speeds are far too slow to be practical.
For a functional alternative, see our list of the best free VPNs for torrenting.
No confirmed obfuscation technology
Bypassing Censorship
There is nothing to suggest ZPN has the capability to get around censorship, and we haven't seen any examples of people successfully using it for this purpose, either.
On top of having no obfuscation technology, ZPN is based in the UAE, a country we spend a lot of time helping people keep their data out of. You can find out what we think are the best VPNs for the UAE here.
Don't expect any help bypassing censorship from ZPN.
There is an "AntiDPI" protocol in the app – which we assume is supposed to make it past the censors – but there's nothing in the app or online to explain how it works. We also haven't seen any user testimony suggesting people have successfully used the app from censored regions.
Good coverage of the basics
Platforms & Devices
ZPN has apps for all the most common operating systems: Windows, macOS and Android, but no iOS.
Apps
Windows

Mac

Android

Linux
There are apps available for older versions of those operating systems too, including Windows XP, Vista, 7 & 8. Although we recommend upgrading to Windows 10 if you're still using one of these systems, but if you can't then ZPN will still work for you.
It even has an app for Linux, which is a great bonus we don't usually see with smaller VPNs.
For a VPN of this size it isn't surprising that this is where the options stop, but it would be nice to see more compatibility.
In particular the ability to install ZPN on a router would add a huge amount of utility, allowing you to cover gaming consoles and smart TVs.
DNS leaks on all servers
Security & Features
ZPN leaks DNS information on every server. It is not secure.
Protocols

OpenVPN (TCP/UDP)

Encryption

Undisclosed

Security

IPv6 Leak Blocking
Supports TCP Port 443
VPN Kill Switch

Advanced features

None
On its homepage ZPN sets out a mission statement:
"Secure your network through encrypted VPN tunnel and stay safe from hackers".
But how secure is it?
Not very.
We found DNS leaks on every ZPN server, a critical failure for a VPN claiming to improve security. It's rare to find a VPN with such reliable security flaws.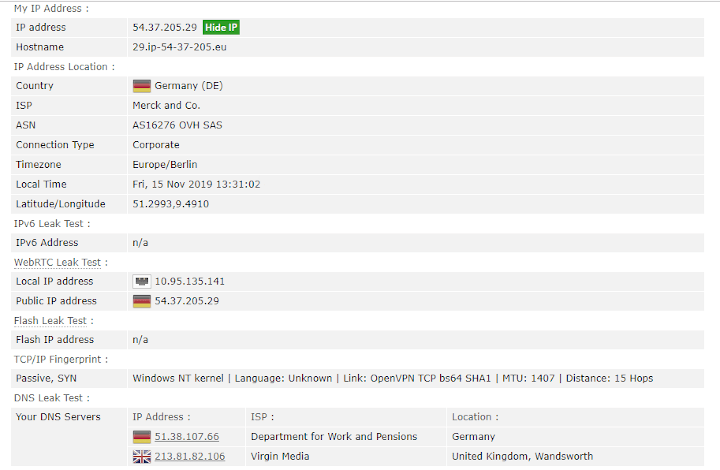 Standard HTTPS connections to websites already encrypt communication, so if the VPN is not protecting your DNS information it isn't adding any more security than HTTPS does on its own.
There is a DNS leak fix setting – for some reason switched off by default – but it doesn't work.
On ZPN's homepage they also make some dubious claims. One example being:

The words ZPN pick all sound authoritative: virtual firewall, hidden IP address, encrypted connection. But this statement really amounts to nothing more than technobabble and ZPN will not protect you from spam links or dangerous sites.
False advertising like this isn't a great way to build trust. It makes ZPN look like it'd rather make a quick sell than genuinely improve the privacy and security of its users.
The app gives you a choice between OpenVPN, AntiDPI, and SSL VPN protocols, with no sign of L2TP as stated on the website.
"AntiDPI" and "SSL VPN" aren't standard protocols. OpenVPN uses SSL, but the app offers no qualification about the difference between these two protocol options. Similarly, there is no clarification of what tools AntiDPI might use to avoid inspection.
Since there is no information about how these protocol options work or what kind of encryption they use we recommend avoiding them and sticking with the default OpenVPN.
ZPN's design doesn't just look bad, it's also difficult to use.
How to Install & Set Up ZPN Free
Ideally, ZPN's client would be clearer. When you change country location, for instance, you click on a "?" symbol. This isn't really a standard symbol and certainly doesn't look like a button; we wasted some time clicking the blank space to the right before realising what we needed to do.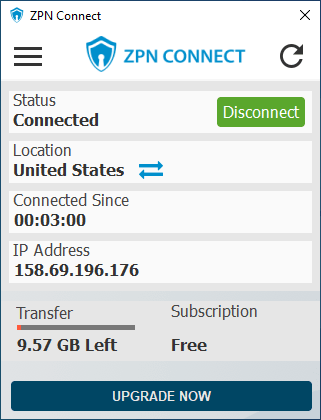 Little details like this aren't fundamental, but they add up. ZPN's bare-bones design results in a pretty clunky user experience, not an efficient one.
The settings are easy to find and change, which we liked.
Once you get used to it ZPN's interface is usable, but we've seen much better.
Email is unmonitored, online resources are minimal
Customer Support
To say ZPN's customer service is poor would be misleading, since it is practically non-existant.
There is an FAQ section which addresses basic questions. The download links all come with pretty good instructions, too.
But there aren't any proper troubleshooting resources, and most of the apps' features go completely unexplained.
If these minimal resources don't help you then you're out of luck: the support email is unmonitored, and the company's twitter account hasn't been updated since 2015.
Do We Recommend ZPN Free?
The Bottom Line
No.
Despite its generous 10GB a month data allowance, there are just too many problems with ZPN to recommend using it.
Stay away from this untrustworthy, poorly designed VPN.
Alternatives to ZPN Free
Windscribe
A free VPN which delivers, Windcribe Free comes with 10GB of data a month just like ZPN. Unlike ZPN, it offers great speeds to a good choice of servers, and allows P2P traffic on its servers. It also has a logging policy we trust. Read Windscribe review
PrivateVPN
PrivateVPN is one of the best value VPNs available today, even on shorter subscriptions. It has a huge range of servers worldwide, a firm no-logs policy and consistently fast speeds. It can also unblock geo-blocked streaming sites like Netflix and BBC iPlayer. Read PrivateVPN review
---
User Feedback for ZPN Free