Disclosure: Top10VPN is editorially independent. We may earn commissions if you buy a VPN through links on our site.
A no-logs policy - but it's not to be 100% trusted
Logging & Jurisdiction
Even after years of testing, we still can't find out anything about VPNSecure. It may say that it logs no personal data, but there's just not enough information in its privacy policy to satisfy us. It also appears to still be based in Five Eyes Australia, despite saying that it was moving years ago.
VPNSecure, also branded as VPN.S, is owned by VPNSecure Pty Ltd.
It was founded in Australia in 2010. Australia is one of the worst jurisdictions for a VPN service to be based in: it's a member of the Five Eyes international intelligence-sharing alliance.
In addition to Australia's mandatory data retention laws, the country recently passed controversial laws that force technology companies to give police and security agencies a backdoor to encrypted messages.
This poses a huge privacy issue for VPN companies incorporated in the country.
In February 2019, VPNSecure notified users that it was moving the company to Hong Kong.
The email we received said that the VPN service would soon operate under Lucro Corp Limited.
However, years on from that we still have no idea if that move actually took place. There is practically no information on VPNSecure's ownership within its privacy policy (or the internet in general), with Australia still being the only country mentioned.
Lucro Corp does seem to be a shell company registered within Hong Kong, however it doesn't have an official website or any information on the businesses it represents.
The lack of information combined with (what we presume to still be) an Australian jurisdiction is not good.
Logging Policy
At first glance, VPNSecure's privacy policy looks really promising:
IP Address NOT logged
Connection timestamp NOT logged
Disconnect timestamp NOT logged
Bandwidth used NOT logged
DNS Requests NOT logged

But there's a catch.
VPNSecure is a no-logs VPN until the government decides to intervene:
"VPNSecure Trust will not monitor you or your use of the service, including its contents unless VPNSecure Trust has reason to believe that such action is necessary to: (1) conform to legal requirements or comply with legal process."
Knowing what we do about Australia's intrusive privacy laws, that's very concerning.
We asked VPNSecure what this might entail and the company's managing director told us:
"If required by a court order then we would only capture the specific data that was outlined within the court order and no other details."
According to the director, so far the company has not been required to do this, but VPNSecure can't rule it out for the future.
What's worse, VPNSecure has been forced to withdraw its warrant canary that it used to publish in order to inform users that it had not received any gag orders or warrants. This is due to an Australian law that came into effect in 2015 prohibiting the use of canaries.
Until VPNSecure moves its operations to a privacy-friendly jurisdiction and expands upon its privacy policy we can't guarantee that it's a truly private VPN service.
Average speeds locally, slower on long distances
Speed & Reliability
VPNSecure maintains good download speeds on same-country connections, but suffers significantly when you need to connect further afield. Upload speeds are a pleasant surprise, though, with VPNSecure recording very impressive numbers globally,
VPNSecure is neither the fastest nor the slowest VPN we've tested – it's fairly average.
You can expect a 20% drop in download speeds when connected to a nearby server and a much greater slowdown on servers further afield.
If all you need a VPN for is protecting your browsing and some light streaming it'll hold up nicely.
Local Speed Test results before using VPNSecure:
Download Speed: 96.13Mbps
Upload Speed: 98.56Mbps
Ping: 3ms
Local Speed Test results with VPNSecure:
Download Speed: 76.49Mbps
Upload Speed: 92.26Mbps
Ping: 15ms
Download speed loss when VPNSecure is running: 20%
Upload speeds were much more impressive, dropping by just 6% on same-country connections – that's great if you're a gamer or spend a lot of time on video calls while working from home.
Here's how VPNSecure performed connecting to other countries:
US: 28Mbps (download) & 82Mbps (upload)
Germany: 53Mbps (download) & 92Mbps (upload)
Japan: 18Mbps (download) & 33Mbps (upload)
Australia: 9Mbps (download) & 25Mbps (upload)
Those download speeds are poor – particularly when connecting to the East Coast of the US. If you don't live near a SecureVPN server then your speeds will suffer.
Cannot unblock Netflix, Amazon Prime Video, or Disney+
Streaming
VPNSecure is practically useless for streaming. In our tests it could only unblock one service: the UK's All 4. We tried it with dozens of Netflix libraries, Amazon Prime Video, DAZN, Disney+, and more, and it failed them all on multiple servers.
If streaming is your number one reason for considering a VPN then VPNSecure is close the worst choice you could make.
There are no servers labeled for or dedicated to streaming, but we went through every server anyway: the only service we were able to gain access to was All 4 (any UK server will work).
P2P supported on all servers, but shouldn't be trusted for torrenting
Torrenting
VPNSecure is simply too slow and too light on features for us to recommend as a good VPN for torrenting. However, it does allow torrenting on all servers and doesn't throttle traffic, so it's not a terrible choice.
We recorded an average of 4.6MiB/s while torrenting with VPNSecure, compared to 11.2MiB/s with no VPN connected.
Considering how respectable the standard download speeds VPNSecure produces are on local connections, this is a pretty large drop off.
Speed isn't the main factor holding VPNSecure back for torrenting, though – it's its terrible jurisdiction and inadequate logging policy.
While VPNSecure claims to maintain a no-logs service, the Australian authorities can demand user data as and when they please.
Not to mention Australia's very strict torrenting laws.
Uses strong encryption with a VPN kill switch for extra security
Security & Features
VPNSecure offers some advanced security features across its apps, but the selection varies depending on your platform. Windows gets some helpful leak-prevention features, as well as URL split tunneling. Most importantly, though, we found no IP or DNS leaks during our testing.
Protocols

OpenVPN (TCP/UDP)

Encryption

AES-128
AES-256

Security

VPN Kill Switch

Advanced features

Split Tunneling
VPNSecure comes with all the VPN basics: strong encryption, solid protocols, and a VPN kill switch.
There's not much more to it, but those features alone provide enough security.
Firstly, the VPNSecure apps run on OpenVPN – the safest protocol you can use.
The apps come with three different ciphers to choose from: DES-CBC, AES-128, and AES-256. We strongly recommend AES-256 as it's the industry standard and considered to be uncrackable.
VPNSecure's kill switch feature ('Disable Internet on disconnect') is available for the Windows and macOS apps only, and it prevents your IP address from being exposed to your ISP or any snoopers in the event of a sudden VPN disconnection.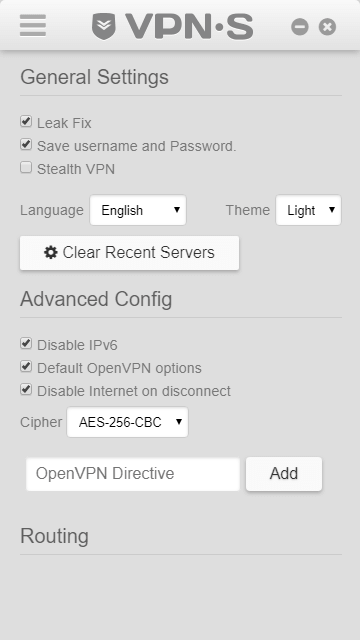 There's also a feature within the settings menu that allows you to pick and choose which domains are to be routed through VPN tunnel, similar to split-tunneling.
VPNSecure has first-party DNS servers, and throughout our tests we found VPNSecure to be free of any IP, DNS, or WebRTC leaks:
There's also an option to disable IPv6, which further prevents IP leaks.
Has StealthVPN mode, but didn't work in our China tests
Bypassing Censorship
Our latest tests connecting to the internet within China using VPNSecure failed. The app actually struggled to make a connection to the internet, and gave us an error code as a result.
VPNSecure's desktop apps come with Stealth VPN, which is an obfuscation tool that scrambles OpenVPN traffic so that it is less easily detected by firewalls such as China's.
However, it's still not a surefire way to access all the blocked websites in the country: when we tested it on our Shanghai server it could not connect. No VPN connection means no uncensored internet.
Other users online shared a similar experience to us, with the most recent reviews saying it didn't work: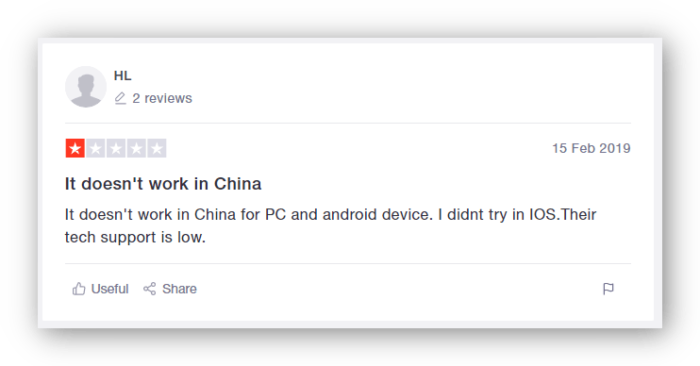 China is the absolute hardest test for any VPN, though. We feel fairly confident that VPNSecure's obfuscation tools will still work in other high-censorship countries like Turkey and Russia. They are also only available on desktop.
33 countries spread well around the world
Server Locations
The bad news is that VPNSecure recently lowered its total number of country locations from 50 to 33. The good news is that they're still spread well around the globe, with some representation in often-neglected areas including South America (Brazil) and Africa (South Africa). You also have a choice of multiple cities in an impressive 13 nations.
While the selection of server locations is fairly impressive, VPNSecure actually maintains a very small number of servers in total.
There are only 80 VPNSecure servers spread over its 54 global cities. That's definitely a small selection, which could partly explain some of the poor speeds we encountered while using the service.
VPNSecure's servers are dotted fairly evenly around the world, although the majority in Europe and North America. The US has eight locations to choose from and the UK has four.
In addition to one location each in South America and Africa, Asia and the Middle East are very well covered thanks to servers in India, Indonesia, Israel, Japan, Singapore, the UAE, and Hong Kong.
While it's great that VPNSecure serves Oceania with servers in both Australia and New Zealand (a real rarity), users on the west coast of Australia might want to consider another option – all four AUS servers are in Sydney and Brisbane.
Simple custom VPN apps for most popular devices
Platforms & Devices
VPNSecure has apps for Windows, macOS, iOS, Android, and also routers. This means that you can use it to protect any other devices on your home network, like games consoles and streaming devices.
Apps
VPNSecure is available on the four most popular desktop and mobile platforms, plus Linux and router:
Windows

Mac

iOS

Android

Linux

Router
While it may not be listed anywhere on VPNSecure's website, it allows for you to use the VPN on up to five devices simultaneously with one membership.
However, you have to be connected to a different server on each device (we have no idea why).
Games Consoles & Streaming Devices
Apple TV

Amazon Fire TV

Chromecast

Nintendo

PlayStation

Roku

Xbox
VPNSecure doesn't provide any custom VPNs apps for streaming devices and games consoles, but that doesn't mean you can't protect them.
By installing the VPN software on a supported router all the internet-connected devices in your home can benefit from VPN encryption.
It's a more complicated setup process, and not all home routers support VPNs, but once running VPNSecure will encrypt every device connected to the network with no extra steps required.
Browser Extensions
Chrome
VPNSecure also comes with a proxy browser extension for Chrome, but we don't recommend installing it.
While it will spoof your IP address to get past geo-blocks, the proxy doesn't encrypt internet traffic, so your personal information won't be protected.
Clunky apps, but easy enough to use
Ease of Use
VPNSecure's apps are ugly and dated, but there's nothing fundamentally wrong with them. It's a fairly simple VPN, which means that there's not much that can go wrong with it while you're using it.
How to Install & Set Up VPNSecure
VPNSecure may not have the prettiest apps we've seen, but they are simple enough to set up and use, and they come with all the settings you need for a secure connection.
The settings menu includes contextual information to explain each of the features, which is particularly helpful for VPN newbies.
The main screen of the app displays the server locations list, your IP address, and membership type.
Rather than having a central connect button like the majority of VPN apps, VPNSecure has individual connect buttons for each server, which feels a little clunky.
Our biggest complaint is the lack of city-level labeling for the server locations, which is frustrating and means that you have to cross-reference the app with VPNSecure's website to find your desired location.
Live chat is gone - you have to wait for email now
Customer Support
VPNSecure previously offered 24/7 live chat support, but that's gone now. With no more live chat of any sort, your only choice is to consult the fairly limited knowledge base or use the email support. Our queries took a few hours to get a response. In fairness to VPNSecure's support team, though, when we did get a response it was quite helpful and in well-written English.
| | |
| --- | --- |
| 24/7 LiveChat support | Yes |
| Online Resources | Yes |
We've seen more robust online resources from VPNs but the 125 or so articles on VPNSecure's website definitely have the potential to be helpful.
The majority either help with device setup, which is always appreciated, or address extremely specific technical issues.
VPNs removing their live chat service is always a shame, but our past experiences with VPNSecure's were never great. If waiting a few more hours is the price to pay for much better, more accurate support, then it's not a huge loss.
VPNSecure is overpriced
Price & Value
VPNSecure represents poor value. To lower its monthly cost to anywhere near tempting you need to sign up for three years, which is a huge commitment to very average service. There's simply no compelling reason to subscribe to it when so many better VPNs cost so much less.
You can see all three VPNSecure pricing plans here:
If you want to pay month to month it'll cost $9.95, which is pretty standard as VPN subscriptions go.
However a one-year subscription only lowers the price to $6.66 per month (paid as a $79.95 one-off cost). That's more than practically every VPN in our top 10.
Finally, the longest plan is a three-year subscription. This lowers the price to a much more reasonable $2.99 per month (in the form of a $107.64 one-time charge).
That's a good price – but to have to commit for three years to get it is unreasonable for a VPN of this quality, in our opinion.
Payment & Refund Options
American Express

Bitcoin

Bitcoin Cash

Mastercard

Monero

PayPal

Visa
VPNSecure accepts a wide range of payment methods including:
Credit and debit cards
PayPal
Various cryptocurrencies via Clio
There's a seven-day money-back guarantee, which is all but guaranteed.
"We will not refund under any circumstances if a particular site or service on the internet does not work, we cannot control what is outside the realm of our VPN network," states VPNSecure's Terms of Service.
You can try out the VPN service for free for 30 days, but it limits you to just 2GB of VPN data and one server location in the US.
A decent VPN service held back by its jurisdiction & ownership
The Bottom Line
Not while the company is based in Australia.
VPNSecure seems like a decent VPN service until you take into account its jurisdiction, which has the power to force the company to enable logging and user data collection.
It's not worth the risk until VPNSecure moves its operations to a country that values online privacy.
Alternatives to VPNSecure
ExpressVPN
ExpressVPN is the best VPN we've ever tested - not only is it fast, secure, and intuitive, it's also based in a privacy-friendly jurisdiction. Read ExpressVPN review
CyberGhost
With a no-logs policy and top-notch security, CyberGhost is another great option. It's a far sight cheaper than ExpressVPN too. It's also ideal for streaming all your favorite shows on Netflix, BBC iPlayer, and more. Read CyberGhost review
---
User Feedback for VPNSecure