Disclosure: Top10VPN is editorially independent. We may earn commissions if you buy a VPN through links on our site.
VPN 360 logs personal web data
Logging & Jurisdiction
While VPN 360 doesn't have its own logging policy. The parent company, Aura, admits its VPNs log huge amounts of information including IP addresses, connection records and even anonymized usage data.
VPN 360's privacy policy states that the VPN service doesn't store logs of users' browsing activities.
However, Aura (VPN 360's holding company) admits to logging URLs visited through its VPN servers – but not in combination with anything that identifies an individual. It does pass on your approximate location to advertisers, though.
Aura's policy also states that the VPN collects connection timestamps and the bandwidth consumed per session, as well as device hashes. It doesn't store user IP addresses beyond your session.
VPN 360's Android privacy policy states that it also logs user bandwidth, but in aggregated form.
However, VPN 360 says that it "may become necessary to temporarily maintain usage data to assist in debugging a problem with the service."
This usage data may include the date and time of your login and the IP addresses you visited. VPN 360 claims this information is deleted once the issue has been resolved.
More worryingly, VPN 360 is willing to disclose "personal information, including your usage data, to governmental authorities or agencies . . . if there is a good faith belief that such collection or disclosure is required by law."
This suggests that VPN 360 will enable logging if requested to do so.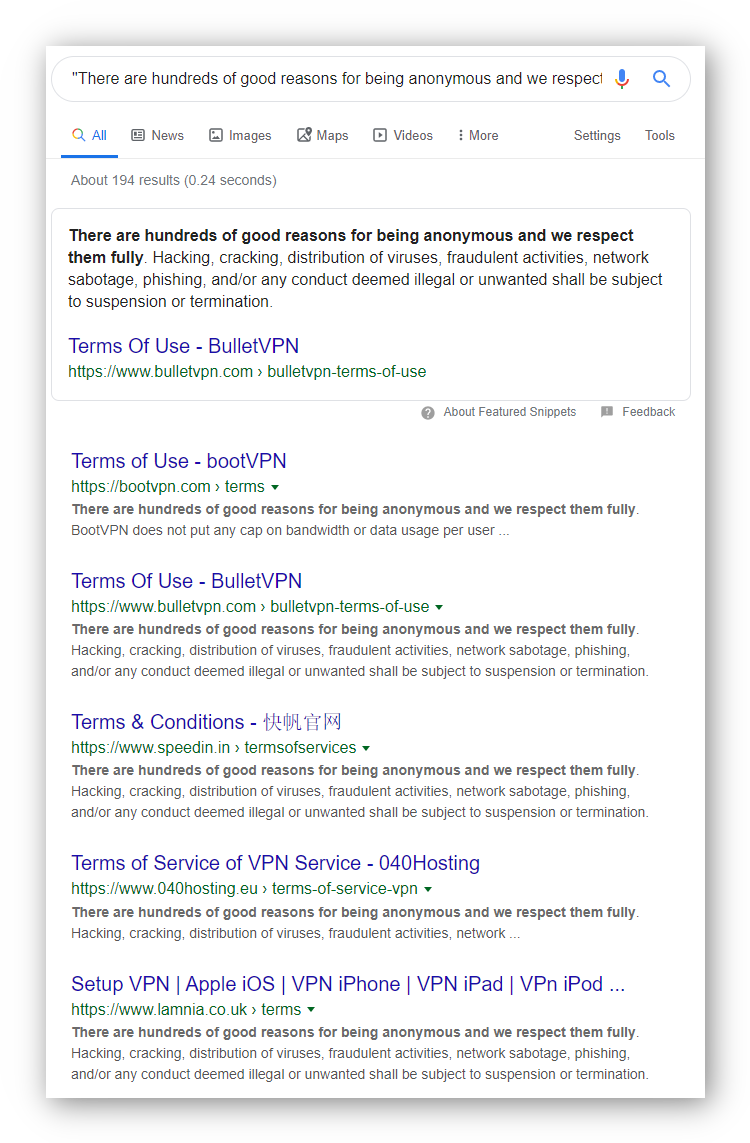 We can't trust VPN 360 fully until it irons out the confusions over its multiple privacy policies and copy-and-pasted Terms of Service.
Even then, Aura's logging policy is far from perfect. On the basis of this alone, we don't think you should use this VPN.
VPN 360 Ownership
When we looked into VPN 360's background a few different names arose.
VPN 360 doesn't have a website, so the Apple App Store and Google Play Store are the only available sources of information.
The Google Play Store and Apple App Store both list VPN 360 as being owned by the same company that developed Touch VPN (which we've reviewed here), TouchVPN Inc.
However, the support email brings up another company, Infinity Software, which claims to be "a small company based in Hong Kong focused on user experience (UX), great design and development of web and mobile applications."
The iOS privacy policy redirects to Aura, the US company that owns Hotspot Shield (read our review) and Betternet (see our review).
Turns out that in 2015, Touch VPN was bought by AnchorFree, which later rebranded to Pango, and then Aura.
But where does Infinity Software come into the equation?
A member of VPN 360's customer support team told us Infinity Software developed and maintains the VPN service.
It's definitely not the most clear cut and transparent VPN service we've reviewed.
Our independent investigation into free apps actually confirmed a link between VPN 360 and mainland China.
Ultimately, VPN 360 operates under US jurisdiction and therefore is subject to the nation's strict data and surveillance laws.
Quick iOS app but painfully slow Android app
Speed & Reliability
Unusually for a VPN, VPN 360s speeds vary significantly between devices. It's fairly fast on iOS, but sluggishly slow on Android.
VPN 360's Android app and iOS are wildly different when it comes to speed.
Let's start with the good news – the iOS app is surprisingly fast, even if there is only one server location available for free users.
Connecting from the UK to the free US server we experienced quick speeds, so if you live in North America it should be even quicker.
Local Speed Test results before using VPN 360:
Download Speed: 89.4Mbps
Upload Speed: 81.2Mbps
Ping: 5ms
Local Speed Test results with VPN 360:
Download Speed: 56.17Mbps
Upload Speed: 43.33Mbps
Ping: 93ms
Download speed loss when VPN 360 is running: 37%
These kinds of speeds are good enough for a range of online activities including browsing, streaming, and torrenting.
Now for the bad news.
The Android app is incredibly slow. We recorded VPN speeds under 2Mbps on a 100Mbps line. Such slowness will affect everything you do online.
It's unclear why there's such a discrepancy between the iOS and Android apps. It seems the VPN 360 support team doesn't know either – it failed to reply to our query about it.
Free users get acces to a US server
Server Locations
For free users there's only one server option on VPN 360: the US. Users based in Europe, Asia, Africa or South America will probably want to look elsewhere.
VPN 360's only server location available to free users is the US.
This is far from ideal for optimizing speeds and accessing geo-restricted content.
Confusingly, the apps do come with the full server locations list, but if you click on any of the locations the VPN will prompt you to upgrade to a premium subscription.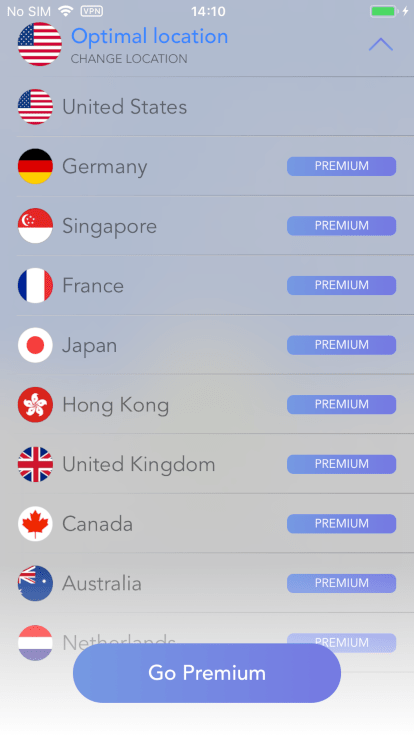 While most free VPN services don't offer huge server networks, most come with several options to choose from.
For example, reviewing TunnelBear we discovered the service offers free VPN servers in 41 countries.
Even VPN 360's premium subscription only comes with 10 locations and costs a steep $11.99 a month.
Doesn't work with Netflix
Streaming
VPN 360 only has a US server, so regional services from outside of the country (such as BBC iPlayer) don't work. It's also awful for premium US streaming services, though: we weren't able to connect to Netflix or Disney+, for instance.
It's not surprising that VPN 360 doesn't work with major streaming services like Netflix and BBC iPlayer.
For a start, it doesn't have any server choices, so if the only free server fails to grant you access to your favorite shows you'll be left with no other options.
Secondly, there's no UK server, so it's impossible to watch BBC iPlayer.
Unfortunately, most free VPN services don't work to unlock Netflix and the like – they simply don't put resources into getting around the streaming services' VPN crackdowns and blocks.
If you really want to use a VPN to stream the world's content you'll have to pay for one – here's a list of the best VPNs for streaming to help you out.
P2P traffic is blocked on the one available server
Torrenting
VPN 360 blocks P2P traffic on its server, but we wouldn't recommend using it if it did. The service is neither private, nor secure, and lacks a kill switch.
VPN 360 doesn't claim to block P2P traffic, but we weren't able to torrent with it in our tests.
Even if it worked, there's no VPN kill switch, which could leave your private P2P activities exposed to your ISP or other third parties.
The lack of transparency surrounding the VPN protocols used and the confusing logging policies are also reasons to not risk it.
Lacks the tools required to work in China
Bypassing Censorship
VPN 360 won't work in China, and it's unlikely to work in other censored regions. It doesn't include any obfuscation technology, which makes it super easy to for governments to identify and block.
It's unlikely that VPN 360 will work reliably in China.
There's no obfuscation tools to mask VPN traffic, and so it would likely get blocked by the Great Firewall.
If you're traveling to China you'll have to get a VPN that's designed for beating the censors, and the most effective will cost you.
ExpressVPN is one of the most reliable VPNs for China.
We don't recommend VPN 360 for other high-censorship countries either due to the lack of server location choice and missing VPN kill switch.
Lack of transparency about encryption
Security & Features
While the iOS app is ok, VPN 360 doesn't publish any information about its encryption and VPN protocols on its Android app. Both apps also lack a necessary kill switch.
| | |
| --- | --- |
| Protocols | IKEv2/IPSec |
| Encryption | Undisclosed |
| Security | None |
| Advanced features | None |
VPN 360 doesn't clearly state which VPN protocols and ciphers it uses to encrypt users' internet traffic.
While the iOS app does give users an option to connect through IKEv2 – a safe, secure, and fast protocol – there isn't any information readily available about the Android app.
The iOS app also comes with 'Auto mode', 'Stay connected mode', and 'Fast mode' next to the IKEv2 connection option. There is no contextual information given about these modes and whether they use a different protocol or not.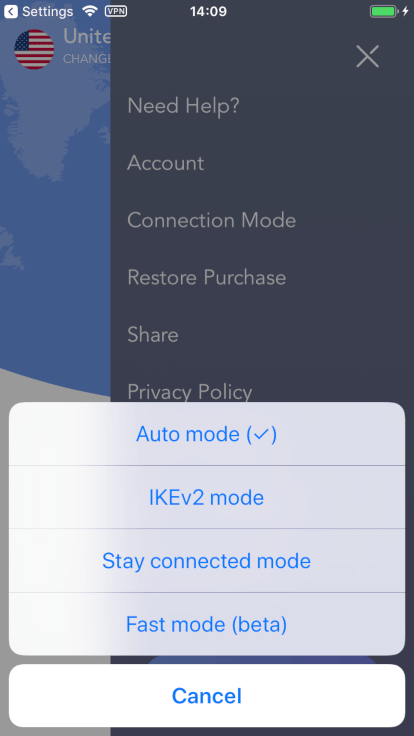 There's also no information given about the type of encryption ciphers VPN 360 uses.
On top of the lack of transparency about the technology behind VPN 360 the apps don't come with a VPN kill switch.
We consider a kill switch to be essential – it protects your private data in the event of a sudden VPN disconnect.
Thankfully we didn't experience any IP, DNS, or WebRTC leaks during our tests:
Simple VPN apps for mobile devices only
Device Compatibility
You can access VPN 360 on either Android or iOS. It doesn't have apps for desktop or other platforms.
Apps
iOS

Android
VPN 360 is a mobile-only VPN with custom apps for Android and iOS.
There's no way to use it on Windows, macOS, or Linux computers.
And forget about installing the VPN on your router.
Extremely easy to use but has annoying in-app pop-ups
Ease of Use
VPN 360's apps are very limited. They are easy to use, but lack advanced functionality or customization options. They also include some very annoying pop-up adverts.
How to Install & Set Up VPN 360
It doesn't take much technical knowhow to install and use VPN 360's custom VPN apps for Android and iOS.
All you need to do is download them from the relevant app store, tap through a couple of installation prompts, and click the connect button in the center of the app.
There is a server location list within the app but there's no point looking at it as free users only have access to the United States server.
The iOS app comes with some minimal settings (VPN protocol selection), while the Android app has none at all.
Aside from the lack of security features our biggest frustration with the VPN 360 apps is the constant pop-up ads. They're intrusive and disruptive.
The 'Fast mode (beta) connection mode for iOS didn't work for us either.
No website, fairly quick email replies
Customer Support
While VPN 360 lacks a website, we did get a response when we contacted the support email on the Google App Store. This is the baseline of what we would expect from a VPN, but at least it makes it.
There's no official website for VPN 360, nor are there any FAQs or troubleshooting tips on the Google Play Store or iOS App Store entries.
It's a given that VPN 360 doesn't have live chat support, but there is a support email provided.
While we didn't have much hope for a response to our questions we were surprised to receive one after just an hour or so.
The VPN 360 email support team answered most of our questions comprehensively, but it'd be better for there to be a dedicated website with a support page to save users the hassle of getting in touch over simple queries.
Do We Recommend VPN 360?
The Bottom Line
No. The huge differences between its two apps, the inadequate security features, and lack of a website mean we cannot recommend VPN 360.
There are far safer and more transparent VPNs available.
Alternatives to VPN 360
ProtonVPN Free
If you're after a free VPN you can use for extended periods of time ProtonVPN is a great choice - there's no VPN data cap. ProtonVPN is really safe and secure, and the speeds aren't bad either. Read ProtonVPN Free review
TunnelBear
While TunnelBear does limit users to just 500MB per month it comes with 23 free VPN server locations. That's ideal if you need occasional access to restricted websites. Read TunnelBear review
---
User Feedback for VPN 360