Disclosure: Top10VPN is editorially independent. We may earn commissions if you buy a VPN through links on our site.
No logs VPN service
Logging & Jurisdiction
Trust.Zone's privacy policy is too short and lacking any detail, but it does promise no logging of data. It claims to not be storing any data whatsoever on its server network, meaning that you remain anonymous, but it does know how much data is transferred. But we need an independent audit to confirm this.
Trust.Zone was first released in 2014, but its background is a bit of a mystery.
Some VPN review websites suggest that Trusted Solutions Ltd. owns Trust.Zone, while others name the parent company as Extra Solutions Ltd.
After some digging we actually found that Internet Privacy Ltd is Trust.Zone's parent company – this information was buried in the affiliate program terms and conditions.
Trust.Zone is incorporated under the Seychelles jurisdiction. The good news is that the Seychelles falls outside international intelligence-sharing agreements.
Confusingly, the address given on Trust.Zone's website – Unit 117, Orion Mall, Palm Street, P.O. Box 828, Victoria, Mahe, Seychelles – is also the registered address of three other seemingly unrelated businesses. This information was even featured in the Panama Papers.
Trust.Zone also names Tersys Group OÜ as its 'distributor.' The Estonian company is named as the app's developer on the Google Play Store.
While Estonia isn't as good for privacy as the Seychelles, a Trust.Zone representative told us that Tersys Group OÜ only deals with accepting payments, so its jurisdiction isn't too important.
Logging Policy
Trust.Zone's privacy policy is short. Really short.
The logging section simply states: "All our VPN servers around the world are not storing any log files to keep your privacy safe. All the usage data is anonymous and not connected to your real, public IP address."
Two solitary sentences isn't enough to satisfy us, though, so we contacted Trust.Zone's customer support team. Its reply was equally short: "No logs."
However, upon reading the FAQs we did find that Trust.Zone does log some data (all grammatical errors are Trust.Zone's):
Trust.Zone VPN doesn't track your online activity except amount of data transferred by user. We do not track what exact data is transferred, but only how much data is transferred. We need this info in order to determine which server gives user best connection speed.
While it's not personally identifiable data, it still prevents Trust.Zone from being no-logs. You don't need to worry about it, though.
It would be great to see Trust.Zone commission an independent audit to confirm its privacy policy.
Trust.Zone also publishes a daily warrant canary to let users know that it has not "been subject to any searches, seizures of data or requirements to log any actions of our customers."
Quick on nearby VPN servers
Speed & Reliability
Trust.Zone delivers respectable VPN speeds on long-distance connections but it's particularly good on local ones. We only recorded a loss of 10% when connecting to nearby France servers, which is on the top end of the VPN speed scale.
So, Trust.Zone is pretty private, but is it fast?
We tested it on local France servers and here are our results in full:
Local Speed Test results before using Trust.Zone:
Download Speed: 97.2Mbps
Upload Speed: 98.39Mbps
Ping: 6ms
Local Speed Test results with Trust.Zone:
Download Speed: 87.05Mbps
Upload Speed: 94.03Mbps
Ping: 22ms
Download speed loss when Trust.Zone is running: 10%
As you can see, Trust.Zone performed quite well on nearby servers – our download speeds only dropped by 10%.
This is more than quick enough for Full HD (or even 4K) streaming, and as fast as some of the biggest VPNs on the planet.
Long-Distance Connections
We also tested Trust.Zone on a number of different global servers.
Here's how Trust.Zone performed on other international VPN servers::
USA:

Download: 73Mbps
Upload: 50Mbps
Germany:

Download: 77Mbps
Upload: 88Mbps
Singapore:

Download: 55Mbps
Upload: 18Mbps
Australia:

Download: 11Mbps
Upload: 13Mbps
Speeds suffer a bit more when it comes to connections over a greater distance, but Trust.Zone is still a pretty speedy VPN.
Small server network covering 40 countries
Server Locations
The Trust.Zone server network isn't as global as we like to see. There are 40 countries available, which is nowhere near the number of the top VPNs. However, there are 97 cities across these countries, which provides specific location options that will benefit overall performance.
Trust.Zone has 187 VPN servers in 40 countries. They are a mixture of physical and virtual servers – this means that Trust.Zone owns some and rents others off of third parties.
The server network is pretty small, but it does cover the most popular locations.
As is usually the case, most of Trust.Zone's VPN servers are situated in Europe and North America, but there are a handful in Asia-Pacific too.
For those in Africa and South America, you have just one option each: South Africa and Brazil.
It is possible to choose between specific regions in some countries, including 11 states in the US, three provinces in Canada, and four regions in Australia.
There's also city-level choice in France, the Netherlands, and the UK.
This lets you to access regional content and should improve speeds if you're located in any of those regions.
Trust.Zone has a number of servers optimized for streaming, but they don't always work. Currently, you can access the US version of Netflix but nothing else. That means no Hulu, DAZN, or HBO Max.
Trust.Zone comes with VPN servers marked specifically for unlocking certain streaming channels and platforms.
As good as that sounds, they don't always work.
There's one labeled 'BBC', for example, that failed to unlock BBC iPlayer when we tried.
The Netflix server did allow us to watch US shows, but our testing has found it to be unreliable in the past.
Customer support told us that users who want guaranteed access should get a dedicated IP address, but this comes at a cost – ranging from $1.84 to $10.50 per month based on which country you choose.
Until Trust.Zone irons out these issues and offers more stable streaming support without users having to pay extra, it's best to stick with our top VPN recommendations for streaming.
P2P servers and safe privacy policy
Torrenting
You can torrent on all of Trust.Zone's servers and it delivers fast speeds for smooth downloads. Its privacy policy is safe for anonymous file sharing, too. We only recommend using it on Windows, though, for which there is a kill switch.
Trust.Zone puts no restrictions on P2P traffic and it picks up a fast average bitrate of 9.1MiB/s.
That means that you can torrent on any of its VPN servers worldwide and experience fast downloads.
A privacy-friendly logging policy, safe jurisdiction, and VPN kill switch (for Windows only) make Trust.Zone a decent choice for torrenters.
However, as capable as Trust.Zone is it still isn't the best torrenting VPN around – for the smoothest P2P experience try one of these VPNs instead.
Unreliable for China
Bypassing Censorship
Trust.Zone's only advice to get the VPN working in China is to try UDP connections, but that won't cut it. This VPN doesn't get around Chinese censorship but it's more effective in countries with less robust online restrictions, like Turkey, or UAE.
Trust.Zone is an unreliable choice for China and other countries that block VPN connections.
Customer support informed us that Trust.Zone VPN works in some parts of China but not others.
Trust.Zone doesn't come with any obfuscation tools to mask VPN traffic, which is one of the only ways VPN services can get past the aggressive blocks.
Your safest bet is to stick with a VPN provider that goes above and beyond to provide access to restricted sites – here are the best VPNs for the job if you're in China.
Strong encryption, basic security features
Security & Features
Trust.Zone is a leak free VPN equipped with the best protocols (OpenVPN) and encryption (AES-256). However, it's not pushing security boundaries; there are no advanced tools like split tunneling or Tor over VPN. It does run a proprietary protocol but there's not much information about it.
Protocols

IKEv2/IPSec
L2TP/IPSec
OpenVPN (TCP/UDP)
Proprietary

Encryption

AES-256

Security

First-party DNS
Supports TCP Port 443
VPN Kill Switch

Advanced features

None
It's not initially clear which VPN protocols Trust.Zone uses within its custom apps for Windows and Android. There's not much information on the website and the apps themselves lack clarity.
We got in touch with Trust.Zone's customer support who told us that the Windows app connects through OpenVPN and its own proprietary protocol, while the Android app uses OpenVPN and IKEv2/IPSec.
Trust.Zone didn't give us any technical details about its proprietary protocol, though, so we have no way of knowing how secure it is.
Thankfully, OpenVPN and IKEv2 are really safe, particularly when coupled with AES-256 encryption.
The customer support representative told us that you can use OpenVPN by selecting port 1194 within the app settings, and the proprietary protocol by selecting any other port.
It's quite a confusing system and would be unclear for anyone without technical knowledge.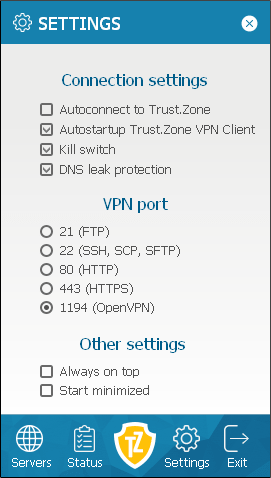 You can also manually configure your devices to work with L2TP/IPsec, but it's not quite as secure a protocol as OpenVPN or IKEv2.
Trust.Zone has a VPN kill switch for Windows, but there is no kill switch for Android. This essential feature blocks internet traffic in the event of a sudden VPN disconnection, so make sure to enable it if you can.
There's also a DNS leak protection feature, which we highly recommend you keep enabled, because when we switched it off we did experience DNS leaks.
Thankfully, the VPN apps didn't leak when we had the feature enabled.
Trust.Zone is a basic VPN service and doesn't have any other security features – there's no split tunneling, obfuscation tools, or servers optimized for Tor.
No macOS app
Platforms & Devices
Trust.Zone still doesn't have a custom app for macOS, which is a huge loss for many VPN users. It's still available on Windows and iOS, and has recently developed a custom iOS app. There are lots of workaround options, too.
Apps
Thanks to custom setup, you can use Trust.Zone on these devices:
Windows

Mac

iOS

Android

Linux

Router
Trust.Zone used to provide custom VPN apps for Windows and Android devices only. It has since made an iOS app but Mac users are still lacking a client.
If you want to use the VPN service on macOS, iOS, or any other device you'll have to manually configure it.
That can be a real nightmare if you're not comfortable with getting technical. It can be quite tricky and isn't as user-friendly as using the dedicated apps.
If you're a macOS or iOS user check out the following guides we've put together for VPNs that come with simple downloadable apps:
You can use Trust.Zone on up to three devices at once, or five if you commit to two-year plan.
Games Consoles & Streaming Devices
Apple TV

Amazon Fire TV

Chromecast

Nintendo

PlayStation

Roku

Xbox
While Trust.Zone doesn't have any apps for streaming devices like Amazon Fire TV, you can install the VPN software on supported routers in order to protect traffic on those devices.
Once installed on your router, Trust.Zone will encrypt all internet traffic flowing through it – that means you can use the VPN with streaming devices, game consoles, and even smart appliances.
Trust.Zone provides setup instructions for the following router types:
DD-WRT
Roqos Core VPN router
Tomato
Asus Merlin
Browser Extensions
Chrome

Firefox
Trust.Zone has released beta versions of its browser extensions for Google Chrome and Mozilla Firefox.
These look pretty much exactly the same as the Windows app and are fairly easy to use.
Before you start using them, it's essential that you check the box labeled Disable WebRTC in the Connection Settings menu to avoid leaving your IP address exposed through WebRTC leaks.
Unfortunately, this feature isn't enabled by default, something we've suggested Trust.Zone does before its general release.
Some confusing settings & connection issues
Ease of Use
Trust.Zone has a clunky, outdated app that is very unfriendly to newcomers and has few customization options. We'd like to see a more consumer-friendly application, and a less buggy one.
How to Install & Set Up Trust.Zone
Trust.Zone looks very simple at first glance, but we actually found the finer details of the apps to be quite confusing.
The settings menu gives users various port options, but it doesn't actually tell you what they do.
While more advanced users will know what these options mean, if you're a VPN beginner you certainly won't.
According to customer support, selecting specific ports also changes the VPN protocol, which isn't specified anywhere on the app or the VPN's website.
To make matters worse, we also struggled to connect to several of Trust.Zone's VPN servers.
Our troubles don't seem to be a one-off, as is reflected in many user reviews on Trust.Zone's Google Play Store page.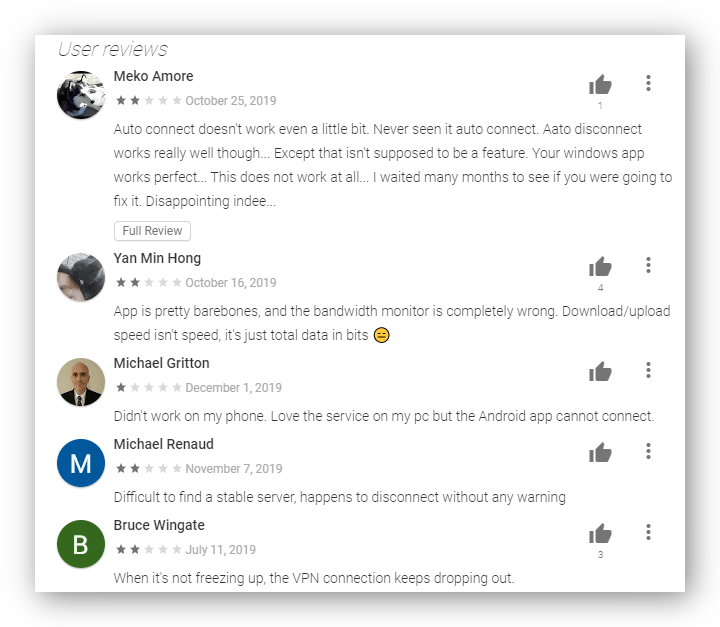 Even without those issues, Trust.Zone isn't easy to use for users who want to protect devices other than Windows and Android.
Manual configuration isn't rocket science, but it's definitely not ideal.
No live chat support, email ticket system instead
Customer Support
Trust.Zone isn't the most user-friendly VPN, so support is important. The problem is there's no live chat feature on its website. There's only an online email form to send questions. The response time is slow but always informative.
| | |
| --- | --- |
| Email | Yes |
| Online Resources | Yes |
Trust.Zone doesn't have a live chat support feature, which is frustrating for those of us who don't want to wait around for answers.
There are some useful setup articles – which are necessary considering Trust.Zone lacks custom apps for many devices – and an FAQs page, which provides answers to very basic questions about the service and some troubleshooting tips too.
If you want to get in touch with Trust.Zone you'll have to have an account, as the email ticket page requires an email and password.
The support ticketing system proved to be quite frustrating – in addition to waiting a few hours for a response, we also had to log in to the website each time we wanted to see the reply.
Trust.Zone makes the whole process feel user-unfriendly and inconvenient but, in fairness, we did get all the answers to our questions eventually.
Cheap prices, poor refund policy
Price & Value for Money
On its best price deal, Trust.Zone is a cheap VPN. However, if you want advanced features you have to be considerably more. For a dedicated IP and port forwarding feature it's another $2.49 – at least. It also comes with a 10-day refund period that isn't guaranteed.
Trust.Zone is quite cheap, particularly on its best price, two-year deal.
You can see all of the Trust.Zone pricing plans below:
The two-year plan also allows you to use the VPN on up to five devices at once rather than the usual three.
Payment & Refund Options
You can pay for Trust.Zone via these methods:
Alipay

American Express

Bank Wire / Direct Transfer

Bitcoin

iDeal

Mastercard

PayPal

UnionPay

WebMoney
Trust.Zone has one of the most diverse selections of available payment methods, including cryptocurrencies and international payment methods.
There is a 10-day refund period, but it's by no means a guarantee.
You'll only get your money back if you've used less than 1GB of data, which you'd easily burn through if you stream just one show.
This is very strict compared to most 30-day "no questions asked" money-back guarantees.
If you do qualify for a refund it can take up to 20 days to receive the money.
There is also a 3-day free trial which is limited to 1GB of data.
Private but underperforming
The Bottom Line
Not particularly. Trust.Zone is a private VPN, but the two custom apps it does have suffer from some usability and connection issues.
The lack of streaming reliability, mediocre speeds, and small server network will be an issue for some, too.
Additional research by David Hughes
Alternatives to Trust.Zone
ExpressVPN
ExpressVPN is more expensive than Trust.Zone but it provides a far superior service. You can stream, torrent, and browse to your heart's content on any device with fast speeds and top-notch security. Read ExpressVPN review
Surfshark
It may be a more budget-friendly option but Surfshark doesn't compromise on privacy. It's great for streaming Netflix and couldn't be easier to use. Read Surfshark review
---
User Feedback for Trust.Zone