Disclosure: Top10VPN is editorially independent. We may earn commissions if you buy a VPN through links on our site.
Zero-logs, but hasn't been audited
Logging & Jurisdiction
StrongVPN is owned by Ziff Davis, which also owns other VPNs including IP Vanish and a number of tech publications. The VPN is based in the US, which we don't like, but it operates a zero-logs policy. We want to see an independent audit of the service to be sure it doesn't record your data.
StrongVPN was launched in 2005 by Strong Technology, LLC. It has changed hands a number of times over the years. In 2019 it was acquired by J2 Global, an American technology company.
In October 2021 J2 Global split in two as a company, becoming Consensus Cloud Solutions, Inc. and Ziff Davis. Its VPN properties now fall under ownership of Ziff Davis, a conglomerate digital media, affiliate marketing and technology company.
Despite this confusing latest change of ownership, we've seen no reason to believe that StrongVPN has changed as a service.
Based in Privacy-Unfriendly US
StrongVPN operates under US jurisdiction, which is one of the least privacy-friendly locations in the world. The US is a member of the Five Eyes international intelligence-sharing alliance. This means the government can demand surveillance data from companies and share it with an intelligence agency without your knowledge.
The VPN service states that it will comply with valid subpoena requests. But because StrongVPN doesn't collect any customer activity logs, there's no way of tying down any web activity to an individual user. It cannot submit information that's already been deleted.
Logging Policy
We analyzed StrongVPN's privacy policy in detail and found it to be zero-logs. It clearly states:
To summarize, it doesn't collect any data about its customers' use of its VPN service. This includes even basic connection metadata such as timestamps, chosen server or bandwidth consumed.
StrongVPN Hasn't Been Independently Audited
Our main concern about StrongVPN's logging policy is its lack of external audit, which would verify the no-logs claim.
We would also like to see a warrant canary or official statement on the website. A warrant canary is published on a website to warn users that a company has been served a subpoena, and that the company may have to share your data.
Without this, the company might have no way of communicating to users if it has been asked to share data with the government.
Very impressive same-country speeds
Speed & Reliability
StrongVPN's speeds are fast enough for HD streaming and torrenting, both on same-country and long-distance connections. But it didn't perform as well with connections to the US. Its low latency means it's well-suited to gaming.
StrongVPN is very fast on local connections, only causing an 8% reduction in our download speeds. This is fast enough for HD streaming, or even 4K if you have a 100Mbps line or faster.
We stick to a strict methodology to conduct our speed tests. First, we fix our internet speed to 100 mbps to have as our baseline. Then we record download, upload speeds, and ping times, before and after connecting to a server near our physical location in London, UK.
Local Speed Test results before using StrongVPN:
Download Speed: 99.93Mbps
Upload Speed: 98.69Mbps
Ping: 6ms
Local Speed Test results with StrongVPN:
Download Speed: 91.94Mbps
Upload Speed: 94.53Mbps
Ping: 9ms
Download speed loss when StrongVPN is running: 8%
International Speed Test Results
International connection speeds were mixed, meaning you can browse, stream, and game easily on some servers – but not all.
We tested StrongVPN's connection speeds from our location in London, UK, by connecting to servers in the US, Germany, Canada, Singapore, and Australia.
Here are StrongVPN's latest global speed test results:
US (New York):

Download: 46.88Mbps (53% slower)
Upload: 66.84Mbps (31% slower)
Germany (Frankfurt):

Download: 90.56Mbps(9% slower)
Upload: 96.5Mbps(1% slower)
Canada (Toronto):

Download: 55.56Mbps (44% slower)
Upload: 56.14Mbps (42% slower)
Singapore:

Download: 14Mbps
Upload: 45Mbps
Australia:

Download: 13Mbps (87% slower)
Upload: 44.6Mbps (54% slower)
Download speeds in Germany were excellent (only 9% slower). On the flip side, connections to the US and Canada averaged around 45 – 55 mbps. These are also great results, but we've seen better – take a look at our list of the fastest VPNs we've tested here.
Unfortunately, we saw poor results connecting across the globe to Singapore (75% drop) and Australia (87% drop). We also encountered some buffering and lagging while streaming. For these reasons, we wouldn't recommend StrongVPN if you are intending to use it for very long-distance connections.
59 locations across 42 countries
Server Locations
StrongVPN operates 950 servers over 42 countries, including additional city level locations. This isn't the biggest server network we've seen, but it's made up entirely of in-house, bare metal servers.
StrongVPN's server network is slightly on the smaller side, with around 950 servers spread across over 42 countries. We'd like to see StrongVPN serve more countries – ideally 50 or more – with better coverage of Africa and specific countries like New Zealand.
First-Party Server Ownership
StrongVPN owns and operates all of its own servers, just like its 'sister' VPN, IPVanish.
Ownership of its "infrastructure of global servers" is one of StrongVPN's best selling points because it eliminates the risks associated with rental servers. It guarantees there is no "third-party meddling with [its] users' activity," and only trusted employees have access to the physical servers.
Lots of City-Level Servers
StrongVPN offers city-specific servers in 59 cities. Of these 59, 25% are based in the US. This is usual for VPNs, which often have a concentration of servers in the US and EU.
Multi-city servers can be found in:
Australia (4 cities)
Canada (3)
France (3)
UK (6)
US (15)
In the last few months, StrongVPN has brought down the number of servers in Germany and Brazil. The number of servers in Australia has increased from two cities to four.
There is good server coverage in Asia with servers located in Hong Kong, Japan, Malaysia, Singapore, South Korea, and Taiwan. South America counts servers in Argentina, Brazil, Chile, and Colombia.
However, there are only two servers in Africa, both located in Johannesburg, and one in India, Mumbai. If there are only a couple servers in your continent, we recommend checking out a better alternative. In comparison, ExpressVPN has servers in four African countries (South Africa, Egypt, Kenya, and Algeria), and three in India (Mumbai and Chennai).
On the plus-side, StrongVPN does make a very high number of IP addresses available to its customers – almost 60,000 – which is great for maintaining high speeds.
Access to Netflix but inconsistent with iPlayer
Streaming
StrongVPN is a good VPN for streaming, though it doesn't have dedicated streaming servers. StrongVPN works with BBC iPlayer, Netflix, Disney+, and more. It unblocked almost every streaming service we tested, albeit inconsistently.
StrongVPN recently started working again with US Netflix on several of its US servers, after weeks of being completely blocked.
There are no dedicated streaming servers, which makes the task more difficult, but you shouldn't find it too hard to find a server that works.We recommend checking out CyberGhost for a VPN service with dedicated streaming servers.
Streaming BBC iPlayer is a different story. StrongVPN unblocks iPlayer inconsistently, working on some days but not others. Here's a list of UK servers and whether they currently work with iPlayer:
It did work with BBC iPlayer in our most recent tests, though. If you want greater reliability, though, these are the VPN services that will work work most consistently with BBC iPlayer.
We had no issues accessing content on US Netflix, and streaming in HD was easy. However, you don't get access to any other Netflix libraries. We tested 10 more and StrongVPN failed to access any of them.
In comparison, NordVPN unblocks 11 Netflix regions, including Germany, South Korea and the UK.
Torrenting allowed on all servers
Torrenting
StrongVPN is a safe VPN for torrenting. P2P is allowed on all servers and we've seen good speed in our P2P tests. However, it doesn't support port forwarding.
Torrenting and P2P activity is allowed on all StrongVPN servers. This is unlike other VPNs which usually feature specialized servers just for torrenting.
In our latest P2P speed tests, StrongVPN registered an impressive average bitrate of 10.3MiB/s. This is just a small drop from 10.6MiB/s average without a VPN.
A strict no-logs policy means all your online activity remains private – which is great for anonymous file-sharing. This and AES-256 encryption has you covered for torrenting.
Dependable Kill Switch
What's more, StrongVPN also has a VPN kill switch and we didn't detect any IP, DNS, or WebRTC leaks in our latest round of testing (more on this below).
No Port Forwarding
Following a recent policy change, StrongVPN no longer sells dedicated IP addresses, which made port forwarding available. This is because all of StrongVPN's servers now use shared IPs – which is good for security but awful for torrenting.
Ideally, we want to see port forwarding easily available to speed up P2P seeding.
Kodi Add-on
StrongVPN also has a Kodi add-on that supports LibreELEC, OpenELEC, and XBMC. There's a helpful setup guide on StrongVPN's official website.
A good choice for censored regions
Bypassing Censorship
In the past StrongVPN has been able to overcome China's firewall from our Shanghai server, but in recent months it has underperformed. It's obfuscation tools should be enough for other censored regions, though.
StrongVPN is still a fairly good option to bypass aggressive web blocks in highly censored countries like China, Iran, Turkey and the UAE.
If you are able to access the website, StrongVPN gives useful advice about connecting in China:
EXPERT ADVICE: StrongVPN's website is blocked in China and other high censorship countries, so we recommend you download and set up StrongVPN before you travel there.
The additional obfuscation tools you get with StrongVPN are very useful to evade online censorship.
Useful Scramble Feature
The scramble feature "disguises [your] traffic to look like regular unencrypted traffic," making it very hard to detect.
It's available on Windows, macOS, Android, and routers running on StrongVPN auto installers (e.g. DD-WRT and Sabai routers). The feature is also only compatible with OpenVPN.
Strong encryption and secure DNS servers
Security & Features
StrongVPN is a secure VPN that offers the trust WireGuard and OpenVPN protocols. It uses AES-256 encryption and we've never detected a DNS or IP leak on the service.
Protocols

IKEv2/IPSec
L2TP/IPSec
OpenVPN (TCP/UDP)
PPTP
SSTP
WireGuard

Encryption

AES-256

Security

DNS Leak Blocking
First-party DNS
IPv6 Leak Blocking
Supports TCP Port 443
VPN Kill Switch

Advanced features

Smart DNS
StrongVPN has a kill switch that prevents your true IP address from being exposed. It uses AES-256 encryption and it operates its own DNS servers, meaning none of your web traffic will be routed through third-party servers.
StrongVPN also supports WireGuard on all its apps – an alternative to OpenVPN which is looking more and more likely to become the fastest option.
Despite StrongVPN's website saying that many servers are only compatible with insecure PPTP connections, this is incorrect.
We got in touch with a customer service agent to find out more. They clarified that you can choose between 6 protocols on all servers, including trusted OpenVPN and WireGuard protocols.
We were also pleased to detect no DNS or IP leaks in our latest tests.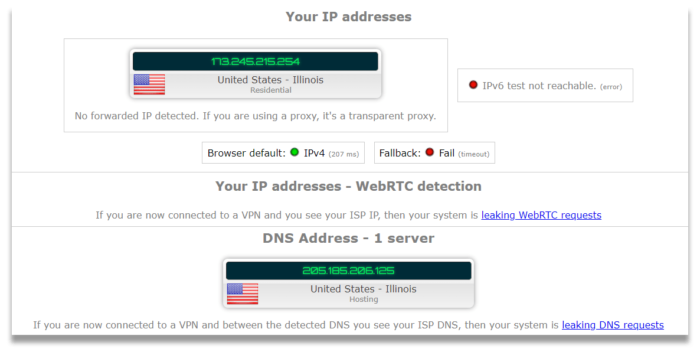 Works with all popular devices plus routers
Platforms & Devices
Strong VPN has apps for iOS, Android, Mac, Windows, and Fire TV, as well as router compatibility and smart DNS for consoles. You can use StrongVPN on up to 12 devices at once which is far above the industry average.
You can have up to 12 simultaneous connections with one StrongVPN subscription. It's a very generous offer and should be more than enough for the average household. If that's not enough for you, though, you can also install StrongVPN on your router to protect all of your devices at once.
There are key differences between StrongVPN's apps. Here's a table of features available on each platform:
Apps
StrongVPN can be used on the following platforms:
Windows

Mac

iOS

Android

Linux

Router
StrongVPN provides custom VPN apps for all popular devices.
On its website, you'll find manual setup guides for other types of devices, platforms and software like Linux, Amazon Kindle and Kodi.
StrongVPN also provides step-by-step instructions on how to manually set up the VPN on your router to protect all internet traffic in your home.
StrongVPN's 12 simultaneous connection limit is very generous and one of the highest we've seen.
Games Consoles & Streaming Devices
Apple TV

Amazon Fire TV

Chromecast

Nintendo

PlayStation

Roku

Xbox
StrongVPN can be used with consoles and streaming devices by following the manual configuration instructions for installing StrongVPN on your home router.
There's also a user-friendly native app for Amazon Fire TV devices, but it's just not as good as some of the best VPNs for Fire TV Stick available.
EXPERT ADVICE: The StrongVPN app is only compatible on Amazon Fire TV devices released from 2016 onwards.
Router Compatibility
Setting up a VPN on your router saves you from having to reconnect each time on every device. It's a great option if you don't want to worry about being hacked through smart home devices or worry about forgetting to connect your VPN.
StrongVPN offers great options for both novice and experienced customers. There's a full list of over 125 compatible routers on StrongVPN's website, split into useful categories.
For beginners, here's a list of preloaded routers available, all powered by Sabai OS:
VPN Accelerator
Linksys E2500
Asus RT-N12
Netgear Nighthawk X6 R8000
For confident users, you can set up StrongVPN manually on devices from these manufacturers:
Asus
Belkin
Buffallo
D-Link
GL.iNet
Linksys
Netgear
TP-Link
If you're interested, check out our guide to installing a VPN on your router to protect all your devices at once.
Browser Extensions
Chrome
The StrongVPN proxy failed to unblock geo-restricted streaming services like BBC iPlayer and Netflix, meaning it's basically useless. It's also only available to customers with a StrongVPN subscription.
Proxies aren't the same as a VPN. They don't encrypt your data and web activity, making it vulnerable to attack or exposure.
StrongVPN's browser extension gives you access to 14 server locations, including New York, London, Tokyo, and Sweden, which is above average.
Easy-to-use apps on all devices
Ease of Use
StrongVPN is great for VPN-beginners. Its newly updated apps are intuitive and user-friendly. There aren't a lot of options for customization, but it's got all the basics covered.
On both the Windows and the macOS versions, the default server is the Best Available option, which is the server closest to your location. It's a convenient feature if you just want to quickly connect to a nearby server.
On both desktop apps, the servers are sorted alphabetically by country and then city. There's no further categorization by region or server specialization, since there aren't any specialized servers.
Desktop users also have the benefit of a proxy browser extension that has 14 server locations — though it wasn't able to access US Netflix or BBC iPlayer.
In comparison, the mobile client offers a superior experience because you can sort servers by city or country. On the plus side, you can use the search bar on both desktop and mobile clients to find a specific location.
Windows
StrongVPN's main screen is very stripped back, displaying only the important connection details:
IP address
Time elapsed
Visible location
Whether you're connected to the VPN

A range of settings can be found behind the cog icon along the top of the app. There aren't a lot of options, but the essentials are covered, such as a functional kill switch and the option to reconnect automatically.

macOS

StrongVPN's macOS client is very similar to Windows. The macOS client offers IPV6 Leak Protection, which the Windows does not.

To access the settings, click on StrongVPN on the Mac menu bar at the top of the page, and then click on Preferences. From there, you can adjust usability features, such as the kill switch, and change protocols.

Importantly, the kill switch is only compatible with OpenVPN or L2TP – we recommend sticking to the former to ensure your real IP address is not exposed.

In terms of design, the macOS version is much sleeker than Windows. It has a minimalist white background, instead of navy and black, and you can't switch to navy or black. Which one you might prefer comes down to your own personal preference.

Android

StrongVPN's Android app is user-friendly and offers split tunneling. It's compatible with WireGuard, OpenVPN, and IPsec. Unfortunately, the VPN service does not offer a kill switch on either Android or iOS, which should be a dealbreaker for frequent mobile VPN users.

Split tunneling is a convenient feature that lets you automatically route traffic on specific apps through a VPN. Importantly, StrongVPN's split tunneling is only available on Android and is compatible with Wireguard, OpenVPN, and IKEv2. We recommend just sticking to WireGuard or OpenVPN, though.

When you open the split tunneling feature, the apps are sorted alphabetically by default. They are sorted into categories such as "Recommended" and "User Apps." You can also "Select all" and "Deselect all" in the hamburger menu.

There are great customer service features on both the Android and iOS versions of StrongVPN. The apps direct you to a conversation with a bot. And if you'd like to talk to a real person straight away, click Chat with an agent. We were able to speak to someone in less than five minutes.

iOS

The app is compatible with IKEv2, IPsec, and WireGuard – we recommend sticking to the latter. And despite the convenience of an auto-connect feature, it's only compatible with IPsec and IKEv2, not Wireguard, which is the most secure of the options. Unfortunately, it doesn't offer a kill switch or split tunneling.

StrongVPN's iOS design is consistent with the macOS client. The background colour is white and gives the app a modern, minimalist look.

You can easily access articles from the knowledge base in-app, including setup guides and FAQs. We appreciate the thought put into the user experience here. You don't have to leave the app to view guides, then open up the StrongVPN app again.

As mentioned before, the live chat function is exactly the same on Android and iOS. This means you can chat with customer service almost immediately if you need assistance.

Fire TV

StrongVPN has a good Fire TV app that unblocks US Netflix and BBC iPlayer – though it sometimes struggles with the latter. In comparison, Windscribe gives you access to 30 Netflix libraries and consistently works with BBC iPlayer.

On StrongVPN, you can choose between WireGuard, OpenVPN and IKEv2 protocols. WireGuard is the default, which is great since it's fast and secure.

Split tunneling is a great feature that lets you route certain apps through a VPN connection and not others. This part of the app wasn't optimized for TV though. When scrolling through the apps, it didn't highlight which we were hovering over on the screen.

It's a shame the Fire TV app doesn't have a kill switch. Without it, your IP address could be exposed if your internet were to drop.
Fast response time but some confusing advice
Customer Support
StrongVPN offers 24/7 live chat and FAQs on its website, although we havn't always been able to use these to solve bugs or issues.
| | |
| --- | --- |
| 24/7 LiveChat support | Yes |
| Online Resources | Yes |
Live chat is available 24/7, but most of the time we just ended up talking to a sales agent who copied and pasted answers from the FAQs section.
This was a little disappointing, but whenever they couldn't solve our problems they did forward our details on to the tech team, who were always quick to respond.
The official StrongVPN website provides a great range of setup manuals for many different devices, including video tutorials and screenshots.
For basic instructions, the FAQ section should do the job, but for anything beyond simple help you'll have to contact their customer support team.
Extensive & Useful Knowledge Base
The official StrongVPN website offers an extensive searchable knowledge base.
It's full of setup guides for different devices, including video tutorials and screenshots. There's even a couple articles written in Mandarin for Chinese users.
Articles in the knowledge base are sorted into the following categories:
Android
iOS
macOS
Windows
Linux
Routers
Amazon devices
App and operating system general troubleshooting
Network issues
Connectivity
Legacy app troubleshooting
China

Overall, the resources on the official website are more than enough to help you set up any device. You have access to 24/7 live sales, billing, and technical support. But you may encounter some issues with live agents who aren't as knowledgeable.
Save 67% off StrongVPN with the latest promotion
Price & Value
StrongVPN is not the cheapest VPN, but it's still good value for money for long-term VPN users. The best price is $3.66 per month for a yearly subscription, which is about the same as top-rated VPNs. You also get 250GB of free online storage with any subscription. StrongVPN only offers four payment options, three of which are by credit card.
StrongVPN offers two pricing plans. They have the exact same features, but you get a significant discount with the longer subscription.
The priciest option is the single month plan at $10.99. This is reduced by 67% to a very affordable $3.66 if you sign up to an annual plan.
On the plus side, StrongVPN offers a bundle deal, with a StrongDNS service and online storage. Both subscription plans include 250GB of free cloud storage with SugarSync. If you decide to switch VPN service, you will lose this storage.
Payment & Refund Options
American Express

Mastercard

PayPal

Visa
StrongVPN accepts the majority of standard payment options including most major credit and debit cards, PayPal and Alipay.
It's disappointing to see a lack of cryptocurrency or other anonymous payment methods, however.
The VPN service also offers a 30-day money-back guarantee for annual subscriptions, in place of a true VPN free trial. It doesn't apply to monthly subscriptions though, meaning you could lose out on the $10.99 you paid.
This is for customers who are "less than 100% satisfied with the StrongVPN service." There are no hidden restrictions or data caps during the 30-day refund period.
A Great Mid-Tier VPN
The Bottom Line
StrongVPN is fast, unblocks many popular streaming platforms, and is great for torrenting. StrongDNS also allows you to use the VPN service with AppleTV and gaming consoles. There's also loads of customizable options for routers. There's a user-friendly Fire TV app.
We also like that StrongVPN operates a no-logs policy, and it allows up to 12 simultaneous connections, which is very generous. Some of its privacy features need to be improved, and the server network isn't as extensive as it needs to be to compete with bigger VPN services.
Nevertheless, StrongVPN is still a good VPN that does the basics right, and which we recommend to novice VPN users.
Alternatives to StrongVPN
NordVPN
Worried about StrongVPN's lack of locations? Try NordVPN: it has thousands of servers spread across dozens of countries all over the world. Read NordVPN review
Astrill
Astrill is one of the most secure, safe, and advanced VPNs available today. It's so well-maintained that it even works to bypass censorship in China. Read Astrill review
---
User Feedback for StrongVPN
34 user reviews

0 questions answered