Disclosure: Top10VPN is editorially independent. We may earn commissions if you buy a VPN through links on our site.
Is Snap VPN Trustworthy?
Logging Policy & Jurisdiction
Snap VPN is a relatively unsafe VPN that isn't very useful for privacy purposes. We found that the company has links to China, and it logs where a user is connecting from. Snap VPN does claim not to log IP addresses and other connection data. But without a third-party audit, we don't trust it.
Snap VPN is owned by a company called Lemon Clove PTE. Limited, which also operates VPN Robot.
A quick look at Lemon Clove's website doesn't tell us much about the company. It doesn't even mention Snap VPN.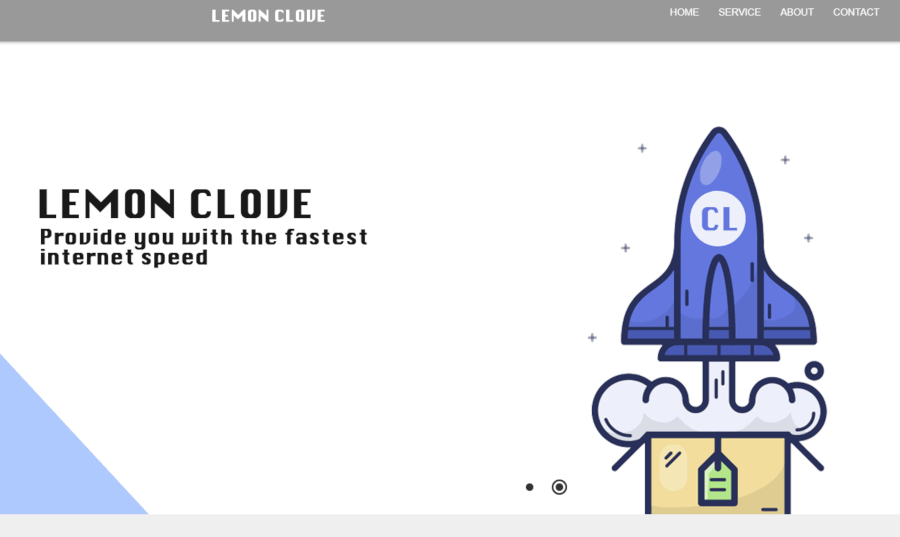 All the website reveals is that Lemon Clove is "an internet start-up whose focus is on network tools development and promotion" with over 5 million users in 137 countries.
There's no address, but the website's copyright footer and contact email address suggest that the company was founded in 2018.
The privacy policy which is linked to from the Google Play Store does shed a little more light on Snap VPN's background.
It says that Lemon Clove is incorporated in Singapore.
Snap VPN's privacy policy states that Singapore has "no special data retention laws and no guidance pertaining to e-discovery or disclosure to foreign law enforcement agencies."
Our research into the Chinese ownership of free VPNs has also revealed that Snap VPN has links to mainland China, an obvious drawback for privacy.
Logging Policy
The first thing we noticed about Snap VPN's privacy policy is that it's hosted on an insecure (HTTP) Amazon CloudFront website.
Not a good start – every modern website should be using secure HTTPS.
However, what the privacy policy says is a little more reassuring. Snap VPN says that it does not store:
Logs of your activity
Your IP address
Your outgoing VPN IP address
VPN connection timestamps or session duration
It goes on to say: "Even when compelled, we cannot provide data that we do not possess."
So what does Snap VPN log in order to maintain its service and for troubleshooting purposes?
Whether a VPN connection is successful on a particular day (but not specific timings)
Which VPN location a user has connected to (but not the assigned IP address)
From which country a user has connected
The user's ISP
The total sum of data transferred per user – if users are found to be consuming an amount of data that far exceeds that of the average user, Snap VPN will seek to understand why the users is consuming so much.
Upon opening the app users are assigned a unique identifier to determine "the level of service" a user has signed up for.
Perhaps the most concerning part of the privacy policy is that Snap VPN logs "information related to which Apps and Apps version(s) you have activated."
It claims that this information is used so that the support team can efficiently find out and eliminate technical issues, but it doesn't sit well with us.
What about the in-app ads?
According to Snap VPN, it doesn't share personal information or any usage with the advertisers without your prior consent.
However, the advertisers themselves may "set and access their own cookies, pixel tags, and similar technologies on [Snap VPN's] services."
While the logs outlined above aren't considered personally identifiable in and of themselves, together they do build up a profile of each user and they aren't deleted regularly.
Our testing also revealed that Snap VPN has some unsafe functions that can 'get your last known location' and 'execute system command.'
Speeds throttled after minutes of use
Speed & Reliability
Snap VPN is one of the slowest VPNs on the market. We found that the VPN throttles speeds to unacceptable levels after just a few minutes of using the VPN. We recorded speeds of below 1Mbps across its server network, which is too slow for all kinds of web activity.
Snap VPN produced some pretty impressive speeds during our initial tests. That was until we used each server for more than a few minutes.
We make a point to conduct a few speed tests on each server to account for small fluctuations in our own network speeds.
The first couple of tests show promising download speeds but on the third or fourth tries they plummeted to below 1Mbps. This is a sure sign of throttling.
We've seen throttling happen with a handful of other free VPNs and it's used as a way to push users into buying the premium product.
Snap VPN tempts users to upgrade by showing a list of 'faster' servers only available to paying customers.
Here are our final results when connecting to a nearby Snap VPN server:
Local Speed Test results before using Snap VPN:
Download Speed: 49.2Mbps
Upload Speed: 49.2Mbps
Ping: 4ms
Local Speed Test results with Snap VPN:
Download Speed: 0.43Mbps
Upload Speed: 43.2Mbps
Ping: 25ms
Download speed loss when Snap VPN is running: 99%
Snap VPN's international speeds were so slow that our test would not finish. This has not happened for any other VPN service.
When we emailed Snap VPN about these speeds, we were told to upgrade with no explanation.
You'll feel the effects of Snap VPN's throttling whether you're streaming, torrenting, gaming, or simply browsing the internet.
Our upload speeds stayed fairly steady, but it's entirely possible that Snap VPN would also throttle those for users attempting upload-intensive activities.
Aside from the pitiful speeds, it sometimes took a really long time to connect to a server, and on occasion connections failed altogether.
Very limited number of server locations
Server Locations
Snap VPN has six server locations, which is around the average for a free VPN service. There's a server in the US, but none in the UK, which is disappointing. There are also no servers in South America or Africa, so expect slow speeds if you're connecting from one of these continents.
Snap VPN – like most free VPNs – doesn't have much to offer in the way of server locations.
You can choose from just six countries:
Canada
Germany
India
Netherlands
Singapore
US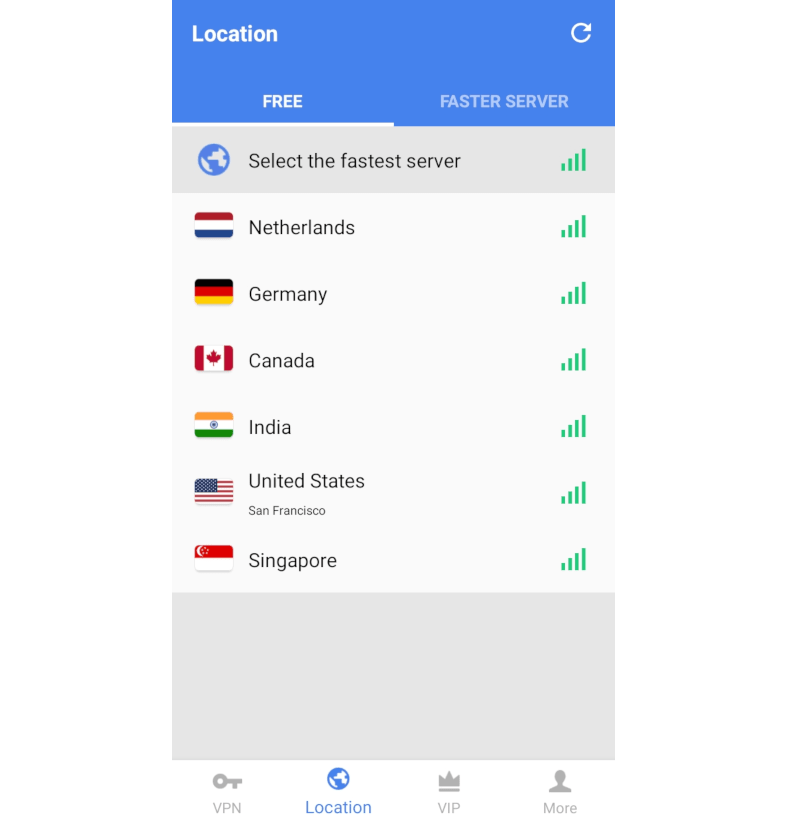 That leaves users in South America and Africa with no nearby servers, further affecting Snap VPN's poor performance.
You can't select individual cities or states within the US, either, so those wanting to access geo-specific content can't.
There are more locations available to premium subscribers, including the UK, Russia, France, Japan, Australia, and South Korea, but this isn't a patch on our top-tier VPN services like ExpressVPN, which has servers in 94 countries.
Doesn't work with Netflix & torrenting
Streaming
Snap VPN does not work with any streaming service. In our tests, we were blocked from accessing US Netflix, Prime Video, and HBO Max.
Snap VPN doesn't work with any US-based streaming app.
There are no free VPN servers in the UK, so that rules out watching BBC iPlayer, which requires a UK IP address.
Those already in the UK can connect to a British server by connecting to the 'fastest server,' but that's no good for those located outside of the UK.
As for Netflix access, it's a premium-only feature.
If you try to watch Netflix using Snap VPN's free UK server you'll be disappointed to see Netflix's annoying proxy error message.

It's not worth upgrading to Snap VPN's premium subscription to watch your favorite shows, though, as there are much better VPNs available.
Blocks torrenting traffic
Torrenting
We found that torrenting traffic is not permitted on Snap VPN's servers. Even if P2P file-sharing was allowed, we wouldn't recommend Snap VPN for this purpose anyway. It logs too much user data and is not secure enough to be trusted with private data.
Snap VPN is pretty clear about its torrenting policy on its Google Play Store profile:
"Please don't download BitTorrent and any P2P. Otherwise, you will be blocked!"
Aside from the obvious fact that Snap VPN doesn't support torrenting, it's pretty worrying that it can say with such certainty that you will be blocked if you do torrent.
That suggests that there is an element of logging involved to identify P2P users. While Snap VPN's logging policy does admit to logging the amount of data transferred per user, that alone shouldn't be enough to identify whether a user is torrenting or not.
However, the customer support team assured us that Snap VPN does "not store or record any user's private information."
Perhaps Snap VPN's statement demonstrating its intolerance for P2P activity is merely an empty threat, but we don't believe it's worth the risk.
If you want to protect P2P traffic safely, we recommend reading our list of the best free and paid VPNs for torrenting.
Doesn't work in China
Bypassing Censorship
Snap VPN lacks any obfuscation tools or technology. As a result, it does not work in China or any other countries that block VPN traffic.
Much like its stance on P2P activities, Snap VPN is very clear about its effectiveness in China:
"For policy reason [sic], this service is not available in Mainland of China. We apologize for any inconvenience caused."
Snap VPN, like most free VPN services (and even most paid ones, too), doesn't come with the necessary tools for overcoming China's Great Firewall.
If you need a VPN for China, take a look at the top recommendations here.
Due to its very small server network and lack of obfuscation tools, we don't recommend Snap VPN for any other high-censorship country either.
Uses OpenVPN & strong encryption, but lacks VPN kill switch
Security & Features
Snap VPN adequately encrypts internet traffic. It uses industry-standard technology, such as AES-256 and OpenVPN. However, it doesn't include any advanced features, like double-hop or split tunneling. Its app also doesn't feature a kill switch, which is a big security flaw.
Protocols

OpenVPN (TCP/UDP)

Encryption

AES-128
AES-256

Security

None

Advanced features

None
Snap VPN isn't the most secure VPN, even if it does use OpenVPN, our preferred VPN protocol.
There's a choice between Protocol A and Protocol B, but no information on what those actually are.
Snap VPN's customer support told us that the protocols help to "better adapt to users' mobile devices and different network environment [sic]" but they "cannot reveal any more information [about the protocols]" without "management approval."
We need to see more transparency regarding this.
Nevertheless, OpenVPN is an open-source VPN protocol that offers a great balance between privacy and performance.
There is no information given about Snap VPN's encryption, but after a few emails back and forth to customer support we now know that it uses AES-128 and AES-256, the latter of which is considered "unbreakable."
Our leak tests came back fine – so that's no IP, DNS, or WebRTC leaks. So, that's another positive for Snap VPN.
As you can see from the leak test results, Snap VPN currently uses Google DNS, which is considered to be secure.
We prefer VPN providers to have their own DNS servers, but a customer support reply to one user suggests that this is in the pipeline:

One of the most disappointing parts of Snap VPN's offering is the lack of a VPN kill switch.
That means that if the VPN connection drops suddenly for whatever reason your personal data will be left exposed.
We hope that Snap VPN includes this essential feature in the near future.
Only available on Android
Platforms & Devices
Snap VPN is only available for Android phones and tablets.
Apps
Android
There are no Snap VPN applications for iOS, Windows, or Mac. There are also no browser extensions for Chrome and Firefox.
If you need a free VPN for other devices, check out our list of the top free VPNs by category.
Simple to use because it has very few features
Ease of Use
As an Android-only app, Snap VPN is easy to install and use. It can be downloaded in the same way as all other Android apps. Once installed, the large 'Go' button to connect is welcoming to beginners. We would like there to be fewer ads and more customization options, though.
How to Install & Set Up Snap VPN
Snap VPN requires a simple download from the Google Play Store to set up and then it's just a matter of selecting the (free) VPN server location from the list and tapping 'Go' on the main screen.
If anything, Snap VPN is far too simple.
It's pretty sparse, with a lot of blank space and little information about your VPN connection.
There's also a bunch of intrusive ads to deal with, too, but that tends to come with the territory of free VPNs.
It may be easy to use, but Snap VPN doesn't provide a very pleasant user experience.
Customer support needs significant improvement
Customer Support
Snap VPN has one of the worst customer support offerings we've seen. It doesn't have a website, so there are no guides to help you with any issues. You can reach a customer support member by email, but we found you'll have to wait over a week for an adequate response.
As Snap VPN doesn't have a website, all the information about the app is within the Google Play Store listing.
There's no FAQs, no set up tutorials, nothing.
There is a customer support email but replies can take a long time to come through.
When we initially receive a response, instead of answering our queries we were prompted to upgrade to a premium plan.
Snap VPN even went so far as to tell us it won't "disclose any information" about the VPN service until we "fairly" evaluated the product.
The last email also came from "Master VPN Customer Service Department," which is particularly confusing.
However, after pushing for a response to our questions, Snap VPN eventually answered them.
We expect more professionalism from a VPN service, free or not.
Do We Recommend Snap VPN?
The Bottom Line
Not at the moment. While Snap VPN's logging policy has recently improved, its zero-tolerance for torrenting and questionable background have made us unable to completely trust it.
If that weren't bad enough, Snap VPN's active speed throttling, lack of VPN kill switch, and inability to work with popular streaming services will probably be enough to put you off.
Alternatives to Snap VPN
ProtonVPN Free
Like Snap VPN, ProtonVPN provides unlimited free VPN data, so you can protect as much data as you'd like. Unlike Snap VPN, it doesn't throttle your speeds. ProtonVPN is also very safe and secure. Read ProtonVPN Free review
Surfshark
If you want to use a VPN for streaming, you'll have to pay for one. Surfshark is a great compromise. For a small monthly fee (cheaper than Snap VPN), you can unlock Netflix while maintaining your online privacy. Read Surfshark review
---
User Feedback for Snap VPN