Disclosure: Top10VPN is editorially independent. We may earn commissions if you buy a VPN through links on our site.
Private Internet Access Review
PIA is very fast connecting to nearby servers
Speed & Reliability
Although it was once the fastest VPN, PIA's speeds have worsened as of late. It's still very fast on nearby servers, but it no longer matches the international speeds of other top VPNs, like ExpressVPN and NordVPN. We saw download speeds as fast as 98Mbps locally but as slow as 26Mbps internationally.
We measured our connection speeds before and after connecting to a Private Internet Access server in London, close to our physical location.
Here are the results:
Local Speed Test results before using Private Internet Access:
Download Speed: 100Mbps
Upload Speed: 92Mbps
Ping: 2ms
Local Speed Test results with Private Internet Access:
Download Speed: 98Mbps
Upload Speed: 86Mbps
Ping: 13ms
Download speed loss when Private Internet Access is running: 2%
When we review VPNs, we always use the same scientific speed-testing process, and the VPN's fastest protocol, to keep tests fair and consistent.
Testing PIA's speeds, we recorded a speed loss of just 2% on short-distance connections — an incredibly fast result.
EXPERT ADVICE:
To get the fastest speeds, connect to a server using the 'Choose Automatically' option.
International Speed Test Results
Long-distance connection speeds were less impressive, but still fast enough for streaming, torrenting, and web browsing.
We connected to servers in the US, Australia, Germany, and Singapore from our London office, measuring our speeds before and after.
Here are our latest long-distance speed test results:
USA (New York):

Download: 66Mbps (34% slower)
Upload: 38Mbps (57% slower)

Germany (Munich):

Download: 97Mbps (8% slower)
Upload: 72Mbps (19% slower)

Japan (Tokyo):

Download: 26Mbps (74% slower)
Upload: 9Mbps (90% slower)

Australia (Melbourne):

Download: 54Mbps (46% slower)
Upload: 10Mbps (89% slower)
As expected, the servers located furthest from our office in the UK recorded the largest speed losses.
We recorded an average speed loss of 74% when connected to Japan and 34% when connected to Singapore. This level of speed loss is not unusual for long-distance connections, though, but it's not up to the standard we expect from PIA.
More positively, PIA's speeds were consistent and stable. We didn't experience any unexpected drops in performance, and connection times were consistently quick.
However, there are faster VPNS than PIA, especially over long-distances. In our Hotspot Shield review we highlight's the VPN's exceptional global speeds.
PIA's Speeds Compared to Other Top VPNs
The graph below compares PIA's average speed loss to other popular VPNs using our custom VPN speed test tool.
We developed this tool in-house, using our infrastructure and resources. This allows us to display the unbiased speed results as they're recorded.
Compare Private Internet Access' speeds across different cities
Private Internet Access used to be the fastest VPN across short distances. However, despite a speed loss of just 8%, ExpressVPN and NordVPN have outperformed PIA in New York connections.
As our chart shows, you can rely on PIA VPN to deliver the fast connections required for smooth streaming and torrenting.
Sadly, Private Internet Access is slower on international connections. For example, connecting from New York to London, speeds dropped over 45%.
While slower long-distance speeds aren't unusual, they can be frustrating nonetheless and can lead to buffering issues while streaming.
Proven no-logs VPN service
Logging Policy & Jurisdiction
Private Internet Access is one of only a few verified no-log VPN services. It keeps no session, connection, or server data. You can use the service with complete confidence that your IP address and activity are not being monitored, stored, or linked back to you.
PIA VPN's privacy policy states outright that all user activity is "NOT recorded, logged or stored at all."
This commitment to privacy makes it a rare outlier among competing services that often collect some form of connection data.
Private Internet Access does collect your email address and payment details at sign-up, which is standard practice.
Regular Transparency Reports
PIA also releases regular transparency reports that detail the number of requests for data it has received from government agencies.
Server Seizures
As we mentioned above, the VPN's no-logs policy has been externally verified on several occasions.
The FBI subpoenaed PIA in a 2016 court case, but despite receiving an official data request, PIA simply had no information to hand over.
The Russian government also seized PIA servers in 2016 but did not find any retained connection or activity data.
PIA subsequently removed all of its servers from Russia in protest to this incident. A bold move we want to see more VPN service providers follow.
While there is no independent audit to verify PIA's privacy and security offering, these court cases are real-world tests supporting the company's logging claims.
Based in Privacy-Unfriendly USA
PIA is headquartered in the United States, which is widely considered to be one of the worst places to base a VPN company.
The US is a founding member of the Five Eyes (FVEY) intelligence alliance, which has automatic systems in place to collect and share surveillance data with Australia, Canada, New Zealand, and the UK.
The Patriot Act also gives US authorities sweeping powers to collect and retain data, especially through the use of National Security Letters.
We typically discourage using a VPN based in a Five Eyes country like the US. However, a verified no-logs policy can offset most issues posed by an invasive government.
After multiple real-world verifications, we are confident that PIA's privacy policy and logging practices can withstand its privacy-unfriendly jurisdiction, and you can trust this VPN with your data.
Who's Behind Private Internet Access?
In November 2019, Kape Technologies acquired Private Internet Access from London Trust Media Inc. (LTMI), a company with an established history in creating privacy tools, including PIA VPN in 2010.
At the time, the acquisition of PIA garnered a some controversy.
The bulk of the backlash stemmed from Kape's past activities in the advertising space when it was known as Crossrider. We discuss more about this in our CyberGhost VPN review.
On the whole, PIA VPN has always gone above and beyond to champion digital privacy, and there's no reason why you shouldn't trust this established VPN.
Equally, Kape is determined to move on from its Crossrider days and is doubling down on its commitments to privacy and internet security. It now operates three trustworthy VPN services, including CyberGhost and Zenmate, with a combined VPN subscriber base of over two million users.
How Private Is Private Internet Access Compared to Other VPNs?
We've collected quantitative data on five private VPNs. In the table below, you can see how PIA compares to other VPNs on key metrics, such as logging policy and jurisdiction.
PIA works with US Netflix and BBC iPlayer
Streaming
Private Internet Access is a decent VPN for streaming, but it's certainly not one of the best. Although it can access US Netflix and BBC iPlayer, we found that you'll have to cycle through several servers before finding one that works. Moreover, the VPN's Smart DNS tool doesn't work, so it's unsuitable for streaming on Smart TVs and PS4.
Although Netflix's strong geo-blocks stop many VPNs from working with the service, Private Internet Access streams US Netflix with ease.
For the most reliable performance, connect to the 'Streaming Optimized' servers.
Having said that, our ExpressVPN review and Windscribe analysis detail how both VPNs are far more effective at bypassing Netflix geo-blocks around the world.
PIA Streams UK Video Content
We also tested the "UK London-Streaming" server, and Private Internet Access unblocked BBC iPlayer every time.
For the time being, we can safely say that PIA now consistently works with all UK streaming services, including ITV Hub and All 4.
PIA Unblocks Prime Video, Hulu & HBO Max
Our tests confirm PIA VPN also works with many other content platforms like Disney+, Hulu, HBO Max, and Amazon Prime Video.
On top of this, PIA's fast speeds mean you won't experience any lag when streaming shows in HD or 4K.
PIA's Streaming Performance Compared to Other Top VPNs
The table below compares Private Internet Access to other streaming VPNs based on Netflix and BBC iPlayer access, and whether Smart DNS is available.
Cost-effective VPN with a 30-day refund policy
Price & Value for Money
Given its quality, Private Internet Access is currently one of the best-priced VPNs. The best value comes with the 3-year plan (which includes three free months). It costs just $2.03, an 83% saving over the monthly plan.
Three billing options allow you to pay for Private Internet Access monthly, yearly, and every 39 months.
As is typical, the best monthly prices are reserved for the longer-term plans. However, these require a more expensive upfront cost.
Payment & Refund Options
Here's the payment methods that PIA accepts:
American Express

Bitcoin

Bitcoin Cash

Mastercard

PayPal

UnionPay

Visa
You can even use gift cards, which can be purchased anonymously with cash.
30-Day Money-Back Guarantee
While there is no free trial, PIA runs a 30-day risk-free money-back guarantee.
To cancel your subscription within the first 30 days, simply open a ticket with the PIA support team and ask for a full refund.
How Expensive Is Private Internet Access Compared to Other VPNs?
Use the table below to compare PIA's pricing information to other popular VPNs. You'll find details about each VPN's cheapest price, refund policy, and free trial period:
PIA has a huge network of VPN servers
Server Locations
Private Internet Access has the largest server network of any VPN. There are 17,193 servers in 97 locations across 84 countries. This means traffic from PIA's users is spread out across many servers, decreasing congestion and improving performance.
The benefit of PIA's huge server network is that it minimizes server load and increases the chances you'll connect to a reliable and close-by server.
You can see how Private Internet Access' server network compares to other VPN services in the table below:
In turn, this makes PIA one of the fastest VPNs available, with an average speed loss of 3% on local connections. You can read more about the VPN's speed performance in the dedicated section of this review.
Basic Server Labeling
Every PIA server is labeled by location, with only two dedicated streaming servers. This is a very simplistic approach to server locations that can present some problems.
The app should display server load so users can see which locations are congested at any given time.
As it stands, most users will have to cycle through their closest servers to find a location that works for them.
Very Good Worldwide Coverage
PIA's VPN servers are spread out as follows:
Europe: 45 countries
Asia: 20 countries
North America: 7 countries
Africa: 5 countries
South America: 5 countries
Oceania: 2 countries
Its servers are mostly located in Europe and North America, but the spread elsewhere is very impressive. In practice, this means that wherever you're located, you'll be able to connect to a nearby PIA server.
Dedicated IP Addresses
The VPN also introduced an option to get a dedicated IP address.
This IP address is unique to you and remains the same every time you connect. Australia, Canada, Germany, UK, and the US are the only available locations, and it costs an extra $5.00 per month.
Disappointingly, this doesn't work with any streaming sites. Reliable streaming performance is usually one of the main benefits of purchasing a static IP address.
Instead, PIA's dedicated IP feature is meant for accessing sites that require a whitelisted IP address. For example, to access online banking.
With such a limited use case, we recommend the vast majority of users avoid this feature.
Virtual Server Locations
Private Internet Access only uses bare-metal (physical) servers, but 41% of its server locations are virtually located.
These servers are labeled in the apps with a globe icon. They can be disabled by toggling off 'Include Geo-Located Regions' in the apps' settings.
A virtual server location assigns you an IP address in your chosen location, even if the physical server is located elsewhere.This allows VPN companies to offer IP addresses in countries where it's very hard to operate a physical server.
They can also improve performance if the physical server is closer to your real location than the IP address you're assigned. However, if the physical server is much further from your physical location than advertised, performance may also drop significantly.
Using virtual server locations isn't a problem if done properly. PIA's clear labeling of these servers, alongside allowing users to disable them entirely, is a welcomed level of transparency.
Rented but Secure VPN Servers
We contacted a PIA representative who confirmed Private Internet Access rents almost all its VPN servers. We were told:
"The majority of our servers, if not all of them, are rented from third parties."
The representative also informed us that PIA uses a "stringent vetting process" for these third parties.
Most VPN companies rent some of their servers from data centers around the world. This helps provide users with access to a global network, but means you are forced to trust an additional party with the responsibility for your data.
Generally speaking, rented servers are not an issue if the VPN provider takes the time to audit all installed hardware along with the network environment it is operating in.
We asked PIA to explain their vetting process and how they can guarantee compliance from third parties. Sadly, PIA chose not to respond.
It is not unusual for a VPN service to rent its hardware. That said, given its security-focused reputation, we expected PIA to be more transparent about its server ownership and its vetting process.
PIA works in China again
Bypassing Censorship
Private Internet Access is one of the most reliable VPNs for bypassing censorship. As it stands, we can confirm that PIA works in China. It also works in other heavily restricted regions such as Russia, Turkey, and the UAE.
We test PIA VPN's access in China weekly, using our test Shanghai server. We make a remote connection from within the country and verify whether PIA truly works in China, or not.
To bypass the Great Firewall with PIA, use the OpenVPN protocol and enable the Shadowsocks proxy within the app's settings.
The Great Firewall of China is the name given to the combination of tools utilized by the Chinese government to enforce mass censorship. This firewall, and those like it, are so effective that only anti-censorship VPNs can bypass them.
PIA's Shadowsocks Beats Censorship
PIA uses Shadowsocks, which is a third-party proxy developed specifically for use in China.
Although Shadowsocks is not as safe or effective as proprietary VPN obfuscation tools, it can access popular apps and websites like Instagram, Facebook, Gmail, and WhatsApp.
PIA is a secure VPN for torrenting
Torrenting
Private Internet Access is a great VPN for torrenting. It has a strict no-logs policy, unlimited bandwidth, fast upload speeds. Unlike most other VPNs, it also comes with port-forwarding, which increases the number of torrenting peers you can communicate with.
PIA is a good VPN for torrenting. It allows P2P and file-sharing activity on all of its servers, which is a much more direct approach than some competing providers.
PIA is compatible with all popular torrent clients including BitTorrent, Deluge, uTorrent, and Transmission.
MACE, PIA's built-in ad blocker, can also help block any trackers or malware you come across in the process.
In our P2P tests, we were able to successfully torrent on all PIA's servers. In fact, you can torrent from any server location, with no bandwidth or other limits. Simply connect to your nearest VPN server and start downloading.
Our torrenting speeds were fast and stable, and we quickly downloaded and played an episode of the show we were looking for.
PIA Has an Impressive Port Forwarding Tool
PIA's port forwarding feature redirects incoming connections to bypass any NAT firewall.
Port Forwarding lets you increase the number of torrenting peers you can communicate with, and drastically improves P2P upload speeds. The PIA settings let you forward to ports 443, 80, 110, 53, 8080, and 9201.
PIA's VPN Kill Switch Is Very Effective
All PIA apps come with a VPN kill switch to protect your traffic if your internet connection suddenly drops.
This is especially important when torrenting files. Without a working kill switch, your real IP address would be visible to everyone in the event of a VPN connection failure.
Strong security, encryption & open source apps
Security & Features
PIA is a safe and trusted VPN. It uses the best available VPN protocols and encryption ciphers, such as WireGuard and AES-256. For maximum transparency, it's even open-sourced its apps. We put it through many security tests and verified it'll encrypt your internet traffic and hide your IP address.
Protocols

IKEv2/IPSec
L2TP/IPSec
OpenVPN (TCP/UDP)
WireGuard

Encryption

AES-128
AES-256

Security

DNS Leak Blocking
First-party DNS
IPv6 Leak Blocking
Supports TCP Port 443
VPN Kill Switch
WebRTC Leak Blocking

Advanced features

Ad Blocker
Dedicated IP
SOCKS
Split Tunneling
PIA supports OpenVPN, WireGuard, IKEv2, and L2TP/IPSec protocols with the option to choose between UDP and TCP connections.
The default setting protects your connection with AES 128-bit encryption, but we recommend you select the AES-256 cipher in the settings interface.
There is built-in protection against IPv4 and IPv6 leaks, DNS leak protection, and a VPN kill switch on all platforms.
Our tests detected no IP, DNS, or WebRTC leaks in any application.
Private DNS Servers
PIA also owns and operates its own private DNS servers, which means your DNS requests are resolved by Private Internet Access rather than your ISP. The apps are flexible, too – the Windows client can also be set to use any custom DNS of your choice.
Highly Customizable Encryption
Unlike a lot of VPN services, PIA gives you detailed control over the algorithms and protocols used to encrypt your data.
Adjusting your encryption settings is useful for optimizing performance and configuring the VPN to suit your security needs.
The default settings protect your connection with OpenVPN and AES 128-bit encryption. You can step up the encryption type to AES-256 (CBC or GCM) in the settings menu.
You can also choose the encryption level used for data authentication and the VPN handshake. These processes allow your device and the server it is contacting to verify the authenticity of the connection and the data being transmitted.
The default settings are for RSA-2048 and SHA-256, but you can go all the way up to RSA-4096 and SHA-384.
In short, PIA offers the strongest encryption available along with the option to choose the settings that work best for you.
The most secure settings aren't selected by default, though, so we recommend changing them to the following configuration:
VPN Protocol — OpenVPN UDP
Data Encryption — AES-256 (GCM)
Handshake — RSA-2048
Advanced Security Features
Private Internet Access also comes with a range of advanced security features designed to improve your browsing experience.
PIA's advanced features include a VPN kill switch, split tunneling, an ad-blocker, a private browser, and SOCKS5 encrypted proxy. Here's what all that means:
VPN Kill Switch
A kill switch prevents your IP address from leaking in the event of a dropped connection. This is an essential feature for any premium VPN service.
PIA's kill switch works on all of its platforms including Windows, macOS, Android, and iOS. Many top iOS VPN apps don't feature a kill switch, which makes PIA a rare exception.
There are three separate kill switch modes: Off, Auto, and Always. The "Auto" setting will block outside traffic when the VPN is on, while "Always" prevents you from connecting to the internet prior to the VPN app launching. Sadly, the "Always" option is only available on Windows and macOS.
Split Tunneling
Split tunneling allows you to exclude certain websites and applications from the encrypted VPN tunnel.
You can therefore give let certain services continue using your standard internet connection. This helps retain functionality with devices on your home network, such as your printer or Smart Home.
Split tunneling is available on PIA's Windows, Mac, and Android apps, and it's located in the 'Network' section of the desktop app's settings. It's not available on iOS at all.
We tested PIA's split tunneling setting by using apps that break if they don't have access to the local network. We selected some apps to 'Bypass VPN' while all other apps were configured to 'Use VPN', and everything worked well.
PIA MACE
PIA MACE is a DNS-based malware and ad blocker found in the 'Privacy' section of the app's settings. This feature blocks access to domains that are commonly known to host ads, trackers, and malware.
But, MACE is not a very good ad blocker. You can't white list certain domains, or adjust the filter settings: it is simply On or Off.
The inability to whitelist certain URLs means you have no choice but to keep the feature on, which ends up breaking certain websites.
Our testing also showed that MACE did not block as many ads as other ad blockers we have tested, an issue that has been reported several times by PIA users.
Read more about ad blockers in our evaluation of NordVPN's ad blockers, CyberSec and Threat protection.
Inbrowser
Inbrowser is a private browser for iOS and Android. It offers a permanent private browsing experience that deletes your history, cookies, and session data every time you exit the app.
Shadowsocks Protocol
Shadowsocks is an open-source encrypted proxy that can be selected directly from the app's interface.
Also known as SOCKS5, Shadowsocks' speeds make it a favorite of torrenters and those looking to bypass internet censorship.
Users will require a different username and password to use the SOCKS5 proxy, which can be generated from the Client Control Panel.
Open-sourced Apps
All of PIA's desktop applications, mobile clients, and browser extensions are open-source.
In simple terms, this means that absolutely anyone can view the applications' source code, study how the apps are written, and contribute themselves by fixing errors and making code improvements.
There are very few VPN services that have chosen to open-source their apps, with ProtonVPN and IVPN being the most notable.
Leak Test Results
PIA comes with built-in protection against IPv4, IPv6, and DNS leaks. DNS leak protection is enabled by default on the macOS app, but has to be manually enabled on the Windows app.
We can confirm that the desktop and mobile apps do not leak. We tested for IP, DNS, and WebRTC leaks, and our real IP address in London was consistently protected.
PIA has apps for all popular devices
Platforms & Devices
Private Internet Access provides custom applications for every major platform including Windows, macOS, Android, iOS, and Fire TV. You can also use PIA on up to ten devices simultaneously, which is double the allowance given by most VPN services.
Apps
Windows

Mac

iOS

Android

Linux

Router
Games Consoles & Streaming Devices
Apple TV

Amazon Fire TV

Chromecast

Nintendo

PlayStation

Roku

Xbox
Browser Extensions
Chrome

Firefox

Opera
Well-designed & user-friendly interfaces
Ease of Use
Private Internet Access is one of the easiest VPN services to use. Its updated apps are user-friendly, yet they offer enough customization options for advanced VPN users.
How to Connect to a Server with PIA
How to Change Settings in PIA
Setting up a PIA VPN connection is instant. You can connect to your nearest server with just one click.
The location menu lists countries and city-based locations, which can be sorted by name or ping time. A search box and Favorites system can help you find the server you need quickly.
Expanding the window reveals a range of other options for connecting to servers in particular countries, viewing real-time performance graphs, usage statistics, key settings, and your subscription status.
You can bookmark each option and add it to your default view, allowing you to customize your experience.
Overall, this is an excellent approach to user experience that helps beginners easily interact with more complex features.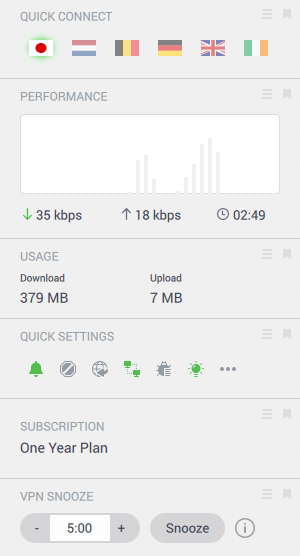 In terms of usability, the new PIA VPN client also offers:
Light and dark mode
Settings to launch or connect the VPN on system startup
Different language settings
PIA's dark mode is even better on mobile, as the app detects whether your iPhone or Android device is in light or dark mode and sets the PIA theme accordingly.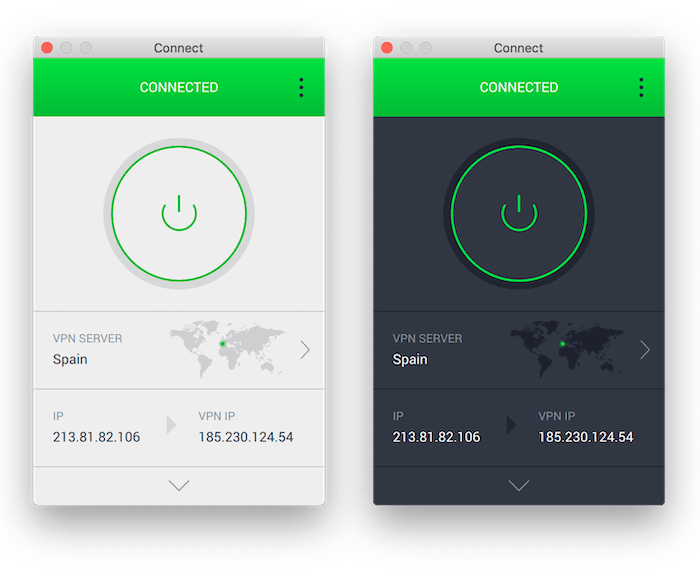 In the section below we take a closer look at each PIA VPN client so you know what to expect the VPN service.
24/7 well-trained customer support
Customer Support
PIA's customer support is on par with other top VPN services. It provides 24/7 live chat support, easy-to-follow online guides, and assistance via email. We found all PIA's support agents to be knowledgeable, courteous, and prompt to respond.
| | |
| --- | --- |
| 24/7 LiveChat support | Yes |
| Email | Yes |
| Online Resources | Yes |
Private Internet Access is simple to install and easy to use on all platforms, but you could still require some assistance.
Live chat is initiated from the bottom-right corner of the official website. You are then asked to input your account details, like your email and account ID, before connecting to a support agent.
By removing the need for a lengthy authentication procedure with the support agent, you get the answer to your query as soon as possible.
There is also a large, searchable online knowledgebase with articles covering troubleshooting, account problems, technical complications, and more.
The website's guides section has articles covering setup and tutorials for all supported platforms. It should cover most general issues you might have with the app.
There is also a news section covering app updates, service issues, and more.
You can also contact a member of the support staff on the website's ticket request system. While this system does work and users tend to report positive experiences, you won't always get a fast reply. It's also only available from 11 am to 7 pm (EST) on weekdays.
We strongly recommend PIA VPN
The Bottom Line
In summary, Private Internet Access is a very fast VPN with robust security and excellent technical features ideal for privacy advocates.
If you want a cheap VPN that provides good speed performance and security, then Private Internet Access is a great choice.
The service is well-suited for torrenting, with a verified no-logs policy, a VPN kill switch and P2P-friendly servers.
Also, PIA VPN consistently unblocks US Netflix, Amazon Prime Video and BBC iPlayer.
If you want an affordable VPN to stream US Netflix, or strengthen your security on public WiFi networks, Private Internet Access is a very good choice.
How Private Internet Access Compares to Other VPNs
Below is a table comparing Private Internet Access to ExpressVPN and Mullvad, two alternative private VPN services.
Additional research by Luke Williams
Alternatives to Private Internet Access
ExpressVPN
ExpressVPN beats PIA in many key areas. Unlike PIA, ExpressVPN is based in a privacy-friendly jurisdiction, unblocks many Netflix libraries, and it has a Smart DNS tool for streaming devices. Read ExpressVPN review
Mullvad
Mullvad shares many great features with Private Internet Access. Mullvad is a very fast and secure VPN with fully open-sourced apps. It's also one of the best VPNs for torrenting. Read Mullvad review
---
User Feedback for Private Internet Access
29 user reviews

1 question answered