Disclosure: Top10VPN is editorially independent. We may earn commissions if you buy a VPN through links on our site.
Is Norton Secure VPN safe?
Logging Policy & Jurisdiction
Norton Secure VPN is a product from a familiar and reputable cybersecurity company. It only collects aggregated performance data, which is far better than other big-brand VPN services. Given its private logging policy, you can trust Norton Secure VPN with your data.
Norton Secure VPN (previously Norton WiFi Privacy) is owned by NortonLifeLock Inc. It's one of the world's biggest cybersecurity software companies, best known for its antivirus solutions.
The company has been around since 1982 and in 2016 it launched its VPN service. Until November 2019, NortonLifeLock was known as Symantec when Broadcom Inc acquired Norton's Enterprise Security software division and took the name with it.
NortonLifeLock is based in California in the US, which isn't ideal for user privacy. The US has very intrusive surveillance laws and is a member of the Five Eyes international intelligence-sharing alliance.
Does that mean Norton's VPN won't keep you safe online? Let's take a look into its logging policy to find out.
Logging Policy
Despite its incorporation in one of the most privacy unfriendly nations in the world, Norton Secure VPN's logging policy is pretty good.
It doesn't store users' originating IP addresses or connection timestamps, nor does it keep logs of the websites you visit while connected to the VPN.
It does collect some data, though:
Subscriber information and mobile device data, including device name, type, OS version, and language – for optimizing performance, understanding product usage, and improving customer satisfaction.
Aggregate bandwidth usage – for billing, network operations, and support.
Norton Secure VPN also collects some temporary usage data in order to select the most appropriate server for the user, and for research and development to improve its services and better protect the user.
Temporary usage data includes the user's originating IP address. The software's "automated rule-based traffic management may [also] require real-time analysis of internet data traffic, including destination websites or IP addresses and originating IP addresses."
While this sounds pretty intrusive, Norton doesn't store users' IP addresses after the VPN session ends and the information regarding the websites a user visits isn't logged either.
This means that Norton Secure VPN's US jurisdiction isn't too bad in the context of its fairly minimal logging policy.
That said, some VPNs keep no logs whatsoever, such as Private Internet Access.
Fast speeds on nearby VPN servers
Speed & Reliability
Norton Secure VPN is a very fast VPN on local connections. However, the VPN doesn't perform as well when connecting to far-away locations. It's fast enough for almost all web activities, just be sure to connect to nearby servers for the best speeds.
Here are the speeds we recorded when connected to a local Norton Secure VPN server:
Local Speed Test results before using Norton Secure VPN:
Download Speed: 97Mbps
Upload Speed: 98Mbps
Ping: 5ms
Local Speed Test results with Norton Secure VPN:
Download Speed: 90Mbps
Upload Speed: 94Mbps
Ping: 8ms
Download speed loss when Norton Secure VPN is running: 7%
Some popular review websites like TechRadar claim they measured poor speeds when testing Norton, with download speeds dropping to as little as 10-15Mbps. Our regularly-updated results are much more promising, with speed losses of just 8% on nearby servers.
A speed loss of less than 10% means that you should be able to do all your online activities as normal, with minimal interruption.
That includes browsing, streaming, gaming, or torrenting – Norton VPN's uploads and ping times are great too.
International Speed Test Results
Here are the speeds we measured when connected to international servers:
USA:

Download: 38Mbps
Upload: 29Mbps

Germany:

Download: 82Mbps
Upload: 94Mbps

Singapore:

Download: 50Mbps
Upload: 642Mbps

Australia:

Download: 38Mbps
Upload: 32Mbps
Performance was still strong, but upload speeds in particular took a hit over long-distance connections.
Longer-distance connections are also fairly fast, but not as reliable as other VPNs such as those listed in our fastest VPNs list.
Small VPN server network covering 31 countries
Server Locations
Norton Secure VPN's server network is underwhelming. The VPN operates servers in just 31 countries with no city-level choice, only covering the most popular locations. There are servers in much of Western Europe and North America, and a handful in Asia-Pacific.
There's only one country each for South America and Africa (Brazil and South Africa).
There's no information on whether these servers are virtual or bare metal, or whether they are owned or rented by Norton.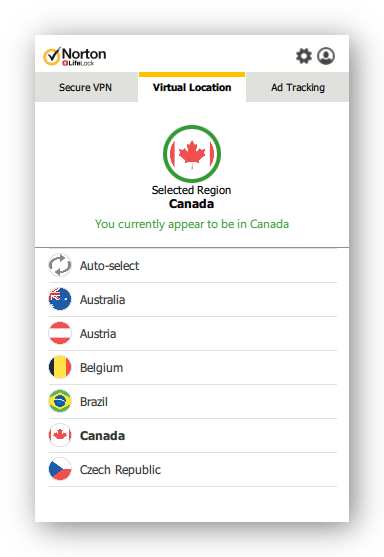 If you live in a country not represented by Norton Secure VPN's network it's worth paying a little extra for a VPN that provides coverage in order to experience the best possible speeds.
By reading our Surfshark review, for instance, you'll see that it's cheaper than Norton with VPN servers in over 60 countries.
Unreliable for streaming
Streaming
Norton Secure VPN is not a reliable choice for streaming. We found that it occasionally works with US Netflix, but is soon blocked. It's never worked for BBC iPlayer or Amazon Prime Video in our tests, either.
Norton Secure VPN's small server network and lack of city-level choice in the US and UK make it unreliable for streaming popular services like Netflix and BBC iPlayer.
While we could watch Netflix through the US location this time around there's no guarantee that this will last.
Netflix is known for cracking down on VPN service providers and blacklisting IP addresses associated with them, so the lack of server choice means that Norton VPN's US server may get blocked, leaving you with no other options to try.
We couldn't watch BBC iPlayer though Norton's UK server either. Even more so than Netflix, the BBC aggressively blocks VPN IP addresses.
To learn more, check out this in-depth guide on Norton Secure VPN and Netflix. Alternatively, read our list of the best VPNs for streaming to find a more reliable streaming VPN.
Torrenting not allowed on any servers
Torrenting
Norton Secure VPN is a terrible VPN for torrenting. Not only does Norton not permit torrenting on any of its servers, but it'll also cut off your VPN connection if it detects any P2P traffic.
Even if it did allow torrenting traffic, Norton VPN lacks the essential security tool for torrenting: a VPN kill switch.
Without one, you risk exposing your IP address to peers and your ISP if the VPN connection suddenly drops.
Here's a list of our top recommended VPNs for torrenting.
No kill switch
Security & Features
Norton Secure VPN performed poorly in our security tests. We found that the VPN lacks a kill switch on all platforms, and there is a lack of transparency on the encryption and protocols it uses. We recommend avoiding Norton VPN if you're a security-focused user.
| | |
| --- | --- |
| Protocols | OpenVPN (TCP/UDP) |
| Encryption | Undisclosed |
| Security | None |
| Advanced features | Ad Blocker |
Norton Secure VPN doesn't quite live up to its name.
There are no technical details about the VPN technology on Norton's website, so we got in touch with customer support to find out more.
The customer support agent told us that Norton's Windows, macOS, and Android VPN apps use OpenVPN, which is our preferred VPN protocol. It's safe and pretty fast too.
The iOS app uses IPSec, but the agent couldn't tell us whether this is IKEv2/IPSec or L2TP/IPSec. While IKEv2 is considered very secure and fast, L2TP has some vulnerabilities.
Until we get clarification on this, it's best to avoid the iOS app.
What's worse, the customer support agent couldn't even tell us what encryption the VPN apps use. "Bank-grade encryption" is all it could disclose, but considering all VPN services use that term whatever the cipher, it's not good enough.
Norton Secure VPN didn't leak in our IP, DNS, and WebRTC leak tests, but we did notice that it uses third-party DNS servers:
While Google DNS and CloudFlare are considered safe, we always prefer VPN services to use their own DNS servers so that they can be in full control of data logging.
Perhaps the most glaring security issue is Norton's lack of a VPN kill switch.
This essential security feature blocks internet traffic in the event of a sudden VPN disconnection. Without it, your personal data may be exposed to your ISP or any other on-path snoopers.
There is an ad-tracker blocker, but we're not confident in its effectiveness. It claimed to have blocked over 1,300 trackers in just 10 minutes of use for us, which seems wildly exaggerated.
Norton's logging policy may be privacy-friendly, but without a VPN kill switch or transparency surrounding VPN protocols and encryption, we can't call this VPN safe.
Norton VPN won't work in China
Bypassing Censorship
Norton Secure VPN has never worked for us in China. The VPN lacks any proxy or obfuscation settings, so it's easily detected. For this reason, we don't recommend Norton VPN in any other high-censorship countries, like Russia and Turkey.
The Great Firewall is really good at spotting VPN traffic and already blocks many VPN services.
In order to beat the censors, VPNs must be equipped with special tools that mask VPN traffic as regular HTTPS traffic.
Norton's VPN doesn't have those tools, so it'll be blocked more often than not.
If you need a VPN for China we've listed our proven favorites here.
Limited platform support
Platforms & Devices
Norton Secure VPN has apps for Windows, macOS, iOS, and Android. There is no support for other platforms, which is disappointing.
Apps
You can download Norton VPN on these operating systems:
Windows

Mac

iOS

Android
There's no way to use it on any other devices, including Linux, and there are no manual workarounds for routers either.
That means you can't protect any streaming devices like your Amazon Fire TV Stick or games consoles.
Norton Secure VPN doesn't come with any browser extensions for Google Chrome, Mozilla Firefox, Opera, or Safari either.
The number of devices you can use the VPN on depends on the plan you pay for.
There are plans for one, five, or 10 devices – the more devices you can use the VPN on at once, the more expensive the subscription is.
If you need to use a VPN on a wide range of devices we recommend you check out our ExpressVPN review – it's one of the very best on the market when it comes to coverage.
Really easy to install and use
Ease of Use
Norton Secure VPN is easy to use for beginners and advanced users. However, we do wish there were more settings to configure or customize.
How to Install & Set Up Norton Secure VPN
Norton Secure VPN is easy to install. You download the relevant app from your Norton account page, click through a few installation prompts, and log in. You'll find the app in your system tray on Windows and in the Menu Bar on macOS.
There are no security settings to change, so just select your preferred VPN server location and the VPN will automatically connect.
There's an on/off toggle at the bottom of the app and that's it.
Very slow live chat, very few online resources
Customer Support
Norton VPN's customer support is poor. Although the 24/7 live chat is convenient, its support team is not very knowledgeable, nor are they quick to respond.
| | |
| --- | --- |
| Live chat Support | Yes |
| Online Resources | Yes |
Norton's customer support leaves much to be desired. Using the live chat feature, we were left waiting for around 10 minutes for a reply. But wait times can be even longer during busy periods.
When we did get a response, it wasn't very helpful.
It's clear that the customer support agents lack technical knowledge about VPNs in general and they aren't clued up about particular Norton Secure VPN features either.
The agents were unable to answer even basic questions like how many server locations there are or whether the apps have a VPN kill switch.
If you have more technical questions, don't expect to get an answer.
There's no email address to contact, either.
Norton provides some very basic FAQs on its website, but that's about it.
For such a well-known brand, Norton's customer support misses the mark completely.
Very cheap, even on monthly plans
Price & Value for Money
Norton Secure VPN is cheap. You can pay annually or monthly, and you can save money by choosing fewer devices to register on your account. If you only want to cover one device, you can use Norton VPN for $3.33 a month, which is a good deal.
Here are Norton Secure VPN's subscription options:
The longer the subscription the cheaper the monthly cost becomes, but it's more expensive to get a 10-device annual plan than it is a one-device annual plan.
It's the same price for a five-device annual subscription as it is for a one-device annual subscription, so be sure to go for the five-device plan to get more value for your money.
NOTE: Norton Secure VPN's monthly plans are not available in the UK. Instead, you'll have to pay annually. Prices range from £19.99 to £69.99, depending on how many devices you want to use the VPN on.
Payment & Refund Options
Norton Secure VPN offers a generous 60-day money-back guarantee for annual plans, and a 14-day refund period for monthly plans.
Just get in touch with a member of the customer support team to request your refund.
You can pay for Norton Secure VPN with debit and credit cards and PayPal only.
If you sign up from within the Android or iOS app, you can also take advantage of a 7-day free trial.
Do We Recommend Norton Secure VPN?
The Bottom Line
Norton Secure VPN provides a mediocre service – it's cheap, but that shows in the quality of the product.
Streaming is unreliable, torrenting is forbidden, and there aren't any security features to speak of. You can get a much better VPN for the same price range.
Alternatives to Norton Secure VPN
CyberGhost
Need a cheap VPN for streaming and torrenting? CyberGhost is a great option. It also provides strong encryption and a no-logs policy. Read CyberGhost review
IPVanish
If it's configurable options you're after, IPVanish is ideal. It's also one of the best for torrenting and not too expensive either. Read IPVanish review
---
User Feedback for Norton Secure VPN