Disclosure: Top10VPN is editorially independent. We may earn commissions if you buy a VPN through links on our site.
McAfee Safe Connect Review
McAfee VPN is bad for privacy
Logging Policy & Jurisdiction
McAfee's logging policy is one of the worst we've ever seen. The VPN logs personally identifiable information, such as your IP address and the websites you visit. Ultimately, when you use McAfee Safe Connect, you're not protecting your privacy — you're handing it over to McAfee.
McAfee collects the following information:
Your IP address
URL and domain names in your browsing history
Your purchase history, your hobbies and interests, your photographs, and your biometric data
Device information, such as the device's battery level, location information, hardware type, and ISP
Information about other devices connected to your network
Here is the information as it appears in the McAfee privacy policy:
McAfee retains this information indefinitely, only removing it in the event of an account deletion. Even then, the data is still kept for 30 days.
McAfee also provides this information to other companies owned by McAfee, third-party advertisers, and "service providers who perform services for us."
Peculiarly, McAfee Safe Connect shares its privacy policy with the broader McAfee cybersecurity product and the policy does not mention the Safe Connect VPN anywhere.
After we contacted McAfee, a representative did indeed confirm that Safe Connect is governed by the same rules and standards as all other McAfee products.
McAfee claims that this information is required "to help protect" users and "to run [McAfee's] business".
This is simply a lie. There are an abundance of VPN services who protect their users and run their business without engaging in such intrusive data collection.
US Ownership is problematic
McAfee Safe Connect is owned by McAfee LLC, the cyber security juggernaut. McAfee LLC also owns TunnelBear VPN (see our review), which it acquired in 2018.
Like its parent company, McAfee Safe Connect is based in the US, within Silicon Valley. As such, McAfee's jurisdiction really could not be much worse. The US is a downright awful location to base a VPN service.
The US is part of the Five-Eyes intelligence alliance, meaning it shares surveillance data with the UK, Canada, Australia, and New Zealand.
On top of this, McAfee is subject to the intrusive legal policies of the US, such as the infamous PRISM surveillance program, which allows the US government to surveil online communications from US-based technology companies.
More worrying, though, is the Stored Communications Act (SCA). This law grants the US government the ability to seize a VPN user's information if that information has been retained.
This is particularly concerning with Safe Connect, as McAfee logs almost everything.
Moreover, McAfee's privacy policy explicitly states that it will supply information to any legal, governmental, or judicial authority if it is ever requested.
In summary, McAfee Safe Connect VPN is bad for user privacy. To see the benefits of a trusted no-logs VPN, head over to our review of Private Internet Access.
Fast speeds across the board
Speed & Reliability
Speed is the only area where McAfee Safe Connect excels. In our tests, McAfee VPN recorded fast speeds of 88Mbps when connected to a nearby server. International performance was less impressive, but our download speed never dropped below 35Mbps.
McAfee Safe Connect delivers fast speeds because it uses Hydra, Hotspot Shield's proprietary protocol. We cover more about the Hydra protocol in our Hotspot Shield review.
Hotspot Shield also licenses the use of the protocol to other VPN services, including Kaspersky Secure Connection and Bitdefender VPN.
To test McAfee VPN's speed, we connected to a nearby VPN server from our base in London.
Here are our full local speed test results:
Local Speed Test results before using McAfee Safe Connect:
Download Speed: 99Mbps
Upload Speed: 98Mbps
Ping: 4ms
Local Speed Test results with McAfee Safe Connect:
Download Speed: 88Mbps
Upload Speed: 90Mbps
Ping: 7ms
Download speed loss when McAfee Safe Connect is running: 11%
As you can see, we saw just a 11% drop in download speed and an 8.73% drop in upload speed. This is impressive and matches the results from some top VPN services.
International speed test results
Using our 100Mbps fiber optic connection, you can view our speed test results connecting from the UK to various McAfee Safe Connect servers below:
USA:

Download: 62Mbps
Upload: 46Mbps

Germany:

Download: 84Mbps
Upload: 85Mbps

Singapore:

Download: 44Mbps
Upload: 28Mbps

Australia:

Download: 38Mbps
Upload: 30Mbps
Speeds remained impressive on international connections. We saw a download speed drop of 37% when connected to an East Coast US server and just a 13% drop when connecting to the Netherlands.
Doesn't work with Netflix and other streaming services
Streaming
McAfee Safe Connect is a terrible VPN for streaming. The VPN was unable to stream any of the services we tested, including Netflix, BBC iPlayer, Disney+, and Hulu.
McAfee admits its poor streaming ability, stating "Netflix and Hulu […] might not work correctly over the secure VPN connection."
More worryingly, however, McAfee's customer service team were frequently surprised when we asked about Safe Connect's streaming capabilities. They even asked why we thought using a VPN would unblock geo-restricted content.
As the company sees it, which has been reinforced in our testing, McAfee Safe Connect is simply not a VPN meant for streaming.
For improved streaming, see our lists of top-rated Netflix VPNs, BBC iPlayer VPNs, and general VPNs for streaming.
Overpriced for what you get
Price & Value for Money
Given its relative lack of quality, Safe Connect VPN is not worth your money. The McAfee Safe Connect monthly plan costs $7.99, which you can lower to $1.99 per month if you pay for a year upfront. For a similar price, there are far better alternative products available.
Here are the two different subscriptions available for McAfee Safe Connect:
These prices may seem affordable, but McAfee VPN's limitations aren't worth the cost in our opinion.
McAfee also offers McAfee Total Protection Ultimate to those looking for a security software bundle.
The Total Protection annual bundle costs $5.83 per month and includes Safe Connect VPN, McAfee antivirus, McAfee's password manager, and McAfee's identity protection software.
Payment and Refund Options
Here's a full list of payment methods you can use to pay for McAfee VPN:
American Express

Mastercard

PayPal

Visa
McAfee Safe Connect Free
If you try McAfee Safe Connect VPN, you can take advantage of the free plan. You don't have to enter any email address or submit payment details to download and use the free software.
The McAfee support pages claim that the free plan only allows a VPN connection to your nearest server, but this is not true. We were able to connect to all 23 of Safe Connect's servers, ranging from France to Singapore.
The company also states that the support options of live chat and telephone are exclusive to paid subscribers, but we also found this to be false.
However, the free tier only allows a very restrictive 250MB of data consumption each month. In comparison, the most highly-rated free VPNs offer up to 10GB of monthly data.
McAfee VPN Free Trial and Money-back Guarantee
Both the monthly and the annual Safe Connect plans come with a 7-day free trial and a 30-day money back guarantee.
When you buy McAfee VPN, you'll be automatically enrolled in the free trial, and you'll be billed on the last day of the trial window. At that point, the 30-day refund guarantee comes into play.
Tiny server network spanning just 23 countries
Server Locations
McAfee Safe Connect's number of server locations is one of the most limited around, with a total of just 23 countries. This slim coverage is even more disappointing as Safe Connect doesn't let you connect to city-level servers, a feature we've come to expect from good VPN services.
Undisclosed number ofIP Address
Though small in size, McAfee Safe Connect has servers in the most popular countries.
Coverage is particularly concentrated in Western Europe and North America, with the US, Canada, the UK, France, Spain, and Germany all included.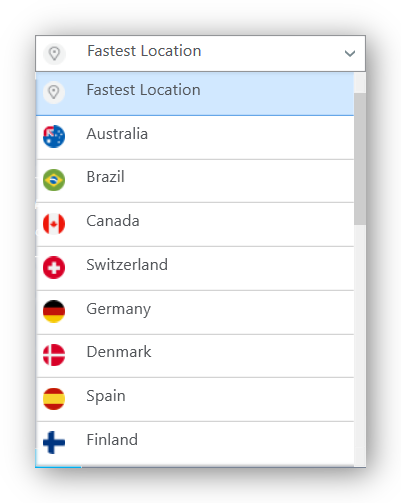 Asia and Oceania are poorly represented, with just 5 server locations between them. Australia, India, Hong Kong, Japan, and Singapore count one server each.
Coverage is truly abysmal in other areas, with Brazil being the only South American option and no servers in Africa.
McAfee refused to inform us about how many individual VPN servers and IP addresses there are and whether these servers are physical or virtual.
We were repeatedly told that server information was "information that cannot be disclosed to customers."
We were not given a reason to explain this, which is particularly frustrating given how common it is for VPN services to definitively state their server and IP address count.
If your home country is not covered, or if you're a globetrotter that needs the most exhaustive server coverage, check out our HideMyAss (HMA VPN) review. HMA VPN has servers in over 190 countries.
Unsafe for torrenting
Torrenting
We do not recommend McAfee Safe Connect for torrenting and P2P activity. The VPN has an invasive logging policy and doesn't include a kill switch. As a result, it can't be trusted to hide your torrenting downloads from third parties.
Without using a kill switch, you risk revealing your true IP address if your VPN connection drops for any reason. Alongside this, the sinister amount of information that McAfee Safe Connect logs could be effortlessly used to personally identify you.
This is a shame, as our tests showed torrenting to be allowed on all of Safe Connect's servers and its fast upload speeds allowed for speedy P2P activity.
But torrenters should absolutely pick a no-logs VPN provider that also provides a kill switch instead.
To find out which VPN services we do recommend for P2P activity, check out our rundown of the best VPNs for torrenting.
These providers combine the most watertight privacy policies with blazing fast speeds and no torrenting restrictions.
No kill switch and weak security features
Security & Features
McAfee Safe Connect provides only basic encryption and security. It didn't leak our IP or DNS address, and it secures traffic using AES-256. However, none of its apps include a kill switch, and it doesn't offer any advanced tools, such as split tunneling and manual port selection.
| | |
| --- | --- |
| Protocols | Proprietary |
| Encryption | AES-256 |
| Security | None |
| Advanced features | None |
McAfee Safe Connect runs on the somewhat secretive Catapult Hydra VPN protocol, making it a bit of a gamble when it comes to your online security.
The choice of Catapult Hydra concerns us for a few reasons. Firstly, McAfee does not state this is its chosen protocol anywhere. When we asked, multiple support agents stated this was simply "information that cannot be disclosed to customers."
Virtually all other VPN providers definitively state their chosen VPN protocol, including those who also use Catapult Hydra, such as Hotspot Shield and Kaspersky Secure Connection.
As a result, McAfee's secrecy makes us immediately suspicious, and for good reason.
In 2018, a major security flaw in Catapult Hydra was discovered by independent security researcher, Paulos Yibelo. This flaw meant that user data, such as a user's country and the name of their WiFi network, could be accessed by a third party.
In conjunction with other publicly available data, this information could then be used to locate and personally identify a user.
A fix for the security flaw was quickly issued, but the fact this initially slipped through the net points to the larger problem of Catapult Hydra. It's still not transparent enough.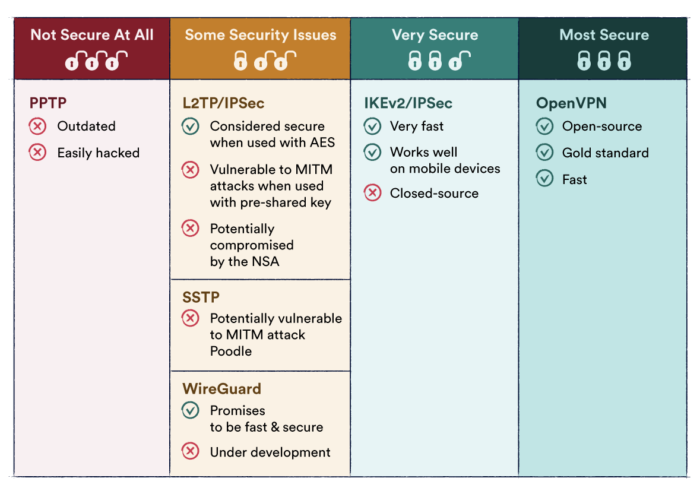 By contrast, our preferred VPN protocol, OpenVPN, has been around since 2001 — having much longer to prove itself and to refine its methods through its open-source community.
Our biggest concern, however, is that McAfee Safe Connect lacks a kill switch on all platforms.
A kill switch is a feature that blocks your web traffic in the case of a dropped VPN connection. This means that your IP address could be exposed if this happens when running Safe Connect, jeopardizing your online privacy.
There are no advanced security features like split tunneling or manual port selection, either.
At least, McAfee Safe Connect utilizes the AES-256 cipher. Most major VPN services favor this method of encryption, which has yet to be broken.
Safe Connect also passed our IP and DNS leak tests. This is shown in the image below, where we are connecting to an East Coast US server from our base in London.
However, despite the use of AES-256 and IP and DNS leak protection being encouraging, this still falls far short of redeeming the shortcomings of Safe Connect's encryption and security quality.
Simply, we cannot trust McAfee Safe Connect to keep your online activity anonymous and neither should you.
Limited device compatibility
Platforms & Devices
Safe Connect VPN only supports Windows, iOS, and Android. There is no macOS app, which is very surprising, and no Fire TV nor Linux apps, either. McAfee Safe Connect supports a very limited range of platforms and devices compared to other paid VPN services.
Apps
McAfee Safe Connect has apps for the following platforms:
Windows

iOS

Android
There is no Smart DNS tool, and it's impossible to set up Safe Connect on your home router. As a result, there are no workarounds for devices that don't support VPN applications, like games consoles.
The service doesn't offer any VPN browser extensions, either. If this is a problem, see our lists of the best Chrome VPN extensions or the top-rated Firefox VPN add-ons.
Frankly, though, for a paid VPN service to have such minimal platform and device support in 2022 is really poor.
McAfee Safe Connect allows up to five simultaneous connections, with the large caveat that you can only register a maximum of five devices to your account.
Most other paid VPN services let you install the VPN on an unlimited amount of devices. Instead, with McAfee VPN, you'll have to be extremely selective when registering your devices.
Simple to use but not enough configuration
Ease of Use
McAfee's VPN apps are user-friendly and are accessible for beginners. However, the apps are basic without many advanced settings. That said, McAfee Safe Connect is a dependable choice if you're looking to simply 'connect and forget.'
How to Install & Set Up McAfee Safe Connect
Downloading the McAfee Safe Connect app on mobile is simple — just search for it in your device's app store.
For Windows, the process is a bit different. Head to the direct Windows download link and the download should start automatically.
From there, the installation process is as simple as following the on-screen steps.
Once installed, the McAfee Safe Connect app is appealing and a pleasure to use, despite its plainness.
We particularly liked the app's tutorial screen which nicely explains and locates key features of the VPN.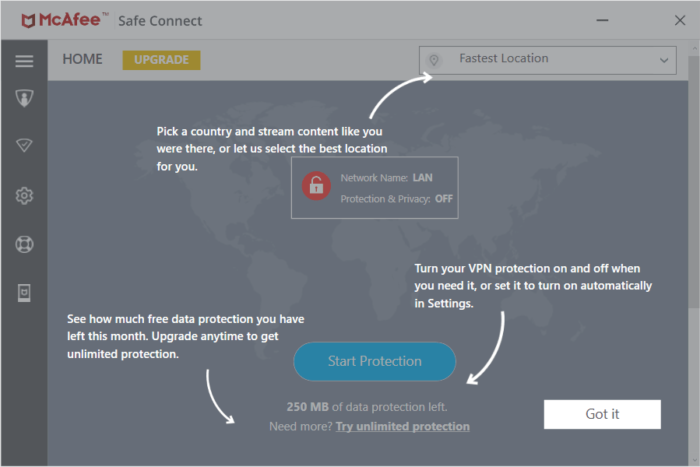 The main screen is minimal, including a connect button and server list. This screen displays some useful information at a glance, such as connection time, data transfer and your WiFi/network connection.
Settings can be found on the app's sidebar, but the options are far too limited for our liking.
You can choose your language preference and whether or not the app should run on startup, but that's it. More experienced users will miss being able to fiddle with configurable options.
If you want a range of configurable options and advanced features, we recommend using more advanced VPNs like AirVPN (read our expert review).
Won't work in censored regions like China
Bypassing Censorship
McAfee Safe Connect cannot be used in heavily censored regions, such as China. Unlike many VPNs, it does not have any obfuscation tools or VPN protocols designed to beat censorship.
In order to bypass the so-called Great Firewall of China, VPNs need to employ clever obfuscation tools which mask VPN data and make it appear as regular HTTPS web traffic.
Only the very best VPN providers manage to consistently circumvent state-enforced restrictions, so it's little surprise that McAfee Safe Connect falls short here.
McAfee Safe Connect lacks any of the required obfuscation tools and will therefore fail to bypass China's, or any other regions', censorship laws.
Even if that weren't the case, Safe Connect's overly intrusive logging policy means it would be a simply terrible VPN for use in highly-censored regions.
By logging your IP address, your device's MAC address, your GPS location, and your biometric information, McAfee makes it as simple as possible for any government to identify you.
If you want to know what VPNs work in high-censorship countries, see our article on the best VPNs for bypassing censorship.
Live support is not very helpful
Customer Support
McAfee VPN's customer support is really poor. Although it's available 24/7, its support agents are not well-informed about VPN-related issues. Its knowledge base is extremely limited, too, with only a handful of articles being relevant to Safe Connect.
| | |
| --- | --- |
| 24/7 LiveChat support | Yes |
| Email | Yes |
| Online Resources | Yes |
McAfee shares one knowledge base for its entire suite of products, but of 360 total articles, only eight of them mention Safe Connect.
Like with the rest of Safe Connect, it proves here again to be the neglected child of McAfee.
Safe Connect does have a phone number that you can contact, but we were told on two separate occasions that we would be called back and these calls never came.
Frustratingly, the live chat disconnects multiple times during a conversation. It will reconnect, most of the time, but we completely lost contact a few times.
McAfee Safe Connect shares a support infrastructure with the broader McAfee product line and it's clear the agents have not been adequately trained to deal with the VPN product.
The support agents were unable to answer routine questions, like whether Safe Connect could be used to bypass geo-restricted content and how many total VPN servers there are.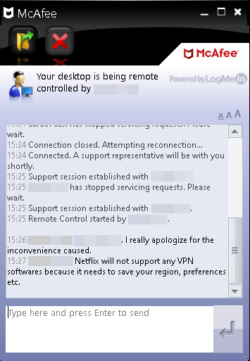 On top of this, Safe Connect seems stifled by the legacy baggage of McAfee. For example, you are forced to provide your full name, email address, and phone number before initiating a live chat.
For a product that exists to protect your personal information, the requirement to provide information that can be used to personally identify you is self-defeating.
The Safe Connect support agents are also extremely heavy-handed in remotely taking control of your device. For example, we were asked to allow remote access after asking a simple question about access to US Netflix.
All of this is extremely off-putting and unnecessary. Especially for privacy-sensitive users, the thought of handing over your phone number and allowing remote access for basic issues might be a bit too much to swallow.
Avoid using McAfee VPN
The Bottom Line
We do not recommend using McAfee Safe Connect. Despite its big name and brand appeal, you should avoid using McAfee's VPN.
McAfee Safe Connect is a speedy VPN aimed at newbies who want a hassle-free way of hiding their IP address. Sadly, though, even for VPN amateurs, Safe Connect fails to provide the bare minimum to make it a good VPN choice.
Most worrying is McAfee's logging policy. The data McAfee retains means you could end up handing over more information than you're protecting with Safe Connect.
The logging policy is exacerbated by McAfee's base in the US — one of the most privacy-unfriendly jurisdictions on the planet.
So long as McAfee allows its VPN product to stagnate, you should avoid using Safe Connect.
Additional research by Luke Williams
Alternatives to McAfee Safe Connect
Surfshark
Surfshark has very easy to use and intuitive apps, meaning you can start using the VPN without hassle. Surfshark is also very affordable and it unblocks most major streaming services. Read Surfshark review
ExpressVPN
ExpressVPN is our top-rated VPN service. It's fast, secure, and private. It also unblocks a wide range of streaming platforms, and it allows P2P on all servers. Read ExpressVPN review
---
User Feedback for McAfee Safe Connect