Disclosure: Top10VPN is editorially independent. We may earn commissions if you buy a VPN through links on our site.
Kaspersky VPN Secure Connection Review
Kaspersky VPN is not private
Logging & Jurisdiction
Kaspersky's intrusive logging policy and Russian jurisdiction make it's VPN a bad choice for privacy. The service has also directly co-operated with the Russian government, which is a huge red flag.
Kaspersky VPN Secure Connection is owned by Kaspersky Lab, the Russian tech giant co-founded in 1997 by billionaire Eugene Kaspersky, who is also the current CEO.
The cybersecurity firm works on much more than its VPN, and this is reflected in some of the policies and design of Kaspersky VPN Secure Connection, which aren't really up to scratch with the strictly VPN-focused VPN providers.
At times, Kaspersky VPN seems to have been built more as an add-on for Kaspersky's other cybersecurity products than as a stand alone application – it's clearly a very small part of the company's total focus.
You may have heard Eugene Kaspersky's name in the news (he's often been a target for controversy) but in recent years he's come under fire for alleged connections to the Russian government.
These allegations are concerning, because while Russia is not part of a large international data sharing agreement it is not considered to have a free internet.
It is worth mentioning that there is little in this area beyond hearsay, and Eugene Kaspersky himself has said that the accusations are "unfounded conspiracy theories" with political motivation.
Whether or not broader accusations of Kaspersky Lab's comfortable relationship with the Kremlin hold up, it is certainly true that Kaspersky was the only major VPN provider not to pull its servers out of Russia when compelled to abide by censorship laws by Roskomnadzor, the government's online watchdog.
Although the Russian security firm was always going to have more trouble resisting its own government than those based overseas, its inaction on this issue is damning for both Russian and international users alike.
This makes the contents of its privacy policy all the more important, because anything and everything it keeps a record of might be subject to surveillance from the Russian government.
The VPN itself is powered by Hotspot Shield – but our tests indicate that the two VPN providers have different server networks, or at least a distinct set of available servers.
Logging Policy
Because Kaspersky's focus extends well beyond its Secure Connection VPN, it can be hard to wade through the corporate-speak to find its actual logging policies.
In the company's 5,000 word privacy policy, for instance, Kaspersky Secure Connection is mentioned exactly once.
The relevant document for Kaspersky Secure Connection's privacy policy – its End User License Agreement (EULA) – is also extremely hard to find.
When you do get there it is hidden among the license agreements for all its other products, with unique versions for different operating systems and additional GDPR compliant versions.
You can find the relevant EULA here, by selecting your operating system under the "Kaspersky Secure Connection" header.
If this all sounds like a headache, you've yet to see the worst. When you open the agreement you'll see it is a large text file which is exceptionally hard to read.
We wouldn't blame you for skipping a privacy policy like this, and given its contents we suspect it's been made inaccessible for a reason.
Cutting through the legal babble, here are our key takeaways on Kaspersky VPN's logging and privacy policy:
It logs information about the software, including a unique ID for your copy and an ID linking it to your "My Kaspersky" account
It logs information about your license to use the software, including another unique ID and and the amount of time until it expires
On top of this it logs information about your computer, such as the model, make, type of processor, version of the operating system installed, and geographic location, along with yet another unique ID
Information is kept about whether the user has opted into the excessive additional marketing and technical data agreements or not – we do not recommend opting into any of these
The amount of traffic used over a given time period is monitored
A large amount of information about nearby WiFi networks is collected, including the network name (SSID), the type of encryption being used, timestamps of connection and disconnection from the WiFi network, and available wireless networks
It also logs an anonymised SHA256 hash of your local IP address and the IP addresses of any DNS servers being used
Alone, it could be argued that most of these things help maintain the VPN network in some way, and the WiFi information is used for a feature which automatically starts up the VPN in insecure networks, but each additional data point erodes your privacy.
We've seen many VPNs operate more effectively while taking significantly less data from their users.
What's even more disturbing is that there is no mention of how long Kaspersky retains this data. If you are based in the EU, in line with GDPR legislation, Kaspersky will delete all your data – but only when you delete your account.
The apps also link to statistics page which will tell you your data usage by day, along with the locations you have connected to and the timestamps of when you connected and disconnected.
Portraying its intrusive logging practices as a feature is pretty tone-deaf, but at least it lets you see some of the information Kaspersky is keeping about you.
Fast and consistent global speeds
Speed & Reliability
Kaspersky well outperformed our expectation for speed. It's extremely fast on local connections, with minimal slowdown even on longer distance international connections.
Kaspersky Secure Connection performed well last time we tested it, and it's only gotten faster since.
We measured only very minor speed decreases on local connections.
Local Speed Test results before using Kaspersky VPN Secure Connection:
Download Speed: 97.24Mbps
Upload Speed: 98.73Mbps
Ping: 4ms
Local Speed Test results with Kaspersky VPN Secure Connection:
Download Speed: 96.19Mbps
Upload Speed: 74.26Mbps
Ping: 10ms
Download speed loss when Kaspersky VPN Secure Connection is running: 1%
These are really strong download speeds, ideal for streaming and torrenting.
Connecting to servers is very fast, too, with changes between servers occurring in just seconds.
Connections are also very stable, and never dropped out during out tests.
Global speeds were also very strong, with remarkably small drops in download speed to the Singapore server. This makes Kaspersky a good choice for international use.
Latency (ping) suffered over longer distances, though, so we'd only recommend gaming through a nearby server – if you're lucky enough to live near to its very Europe focused server list, that is.
Here are the results of our Kaspersky Secure Connection tests connecting to locations around the globe:
USA: 95.23Mbps (download) & 61.17Mbps (upload)
Germany: 94.44Mbps (download) & 79.98Mbps (upload)
Singapore: 91.23Mbps (download) & 3.83Mbps (upload)
Russia: 90.06Mbps (download) & 81.54Mbps (upload)
Since we last reviewed Kaspersky Secure Connection, the VPN has really upped its game speed wise.
Only 18 country-level server locations
Server Locations
Kaspersky offers a limited server network across 18 countries with zero city level options. This includes servers in Europe, North America and East Asia, but nothing in Australia, India, South America or Africa.
Kaspersky's server choices are very limited for a paid VPN. There are 18 countries on offer, with good coverage of Europe, but no city level choices – which we really expect from a provider of this size.
If you need want servers outside of Europe and North America prepare to be disappointed – only Hong Kong, Japan and Singapore are available in Asia, with no servers in South America or Africa.
After some investigation we've identified that, although Kaspersky VPN uses Hotspot Shield's Catapult Hydra VPN technology, it has a distinct server network.
There is no publicly disclosed number of servers or number of IP addresses, so we can only guess at the number available.
There must be at least 18 of both, but there is little to indicate that there are many more – so you might experience some speed throttling at peak times.
While Kaspersky's cosy relationship with Russia is a big privacy red flag, it does mean it has a Russian server available, which is quite rare among providers. It has a Turkish server, too.
For anyone who needs to connect to these locations Kaspersky Secure Connection is certainly a useful tool.
The speeds are there, but not the services
Streaming
Kaspersky works with BBC iPlayer, Disney+, HBO Max, and Amazon Prime Video. This is a good amount of additional streaming sites. Its Hulu and Netflix performance is poor, though; Netflix US has occasionally worked in the past, but not recently.
If you're looking to stream HD video, Kaspersky Secure Connection absolutely has the speeds to let you do this. You'll have some trouble getting access to Netflix and Hulu, though.
Netflix has worked when we've tested Kaspersky in the past, though, so we're hoping it will be up and running again soon.
Kaspersky VPN is much more useful for fans of Disney+, HBO Max, Amazon Prime Video, and British TV like BBC iPlayer, All 4 and ITVHub.
Fast P2P downloads
Torrenting
Kaspersky allows P2P on all of its servers and it includes a kill switch. While the VPN is fast for torrenting, it's invasive logging practices and history of caving to government pressure might be red flags for torrenters.
Kaspersky VPN's fast speeds make it a smart choice for torrenting, and P2P traffic is allowed on all servers, too, which is a must have.
When we tested the VPN for torrenting, we found these strong speeds held up.
We checked on every server and found no IP or DNS leaks, so as long as you stay connected you can be confident that your true IP is hidden.
Kaspersky Secure Connection has a kill switch, which is vital for torenting.
Kaspersky's over-the-top logging practices should be a concern for torrenters, though, particularly given the company's alleged close relationship with the Russian government.
Actively collaborates with Russian censors
Bypassing Censorship
Not only does Kaspesky not work in censored countries, it actively co-operates with Russia's authoritarian state. We don't expect the VPN to overcome censorship, and recommend users in authoritarian counties - especially Russia - avoid it.
Kaspersky VPN is powered by Hotspot Shield – a VPN which doesn't work in aggressively censored countries. It is highly likely that Kaspersky Secure connection will not work either.
Kaspersky also makes a point of saying its VPN cannot be installed in:
Belarus
China
Iran
Oman
Pakistan
Qatar
Saudi Arabia
This is apparently due to "legal limitations."
When Kaspersky, along with several other major VPN providers, was compelled to comply with Russian censorship legislation earlier this year, it was the only provider who did not pull its servers out of the country.
Since the company itself is Russian, this move is not too surprising (it takes much more to move your entire operation out of Russia than just some servers).
For a VPN to agree to actively facilitate censorship is a very bad, though. It's just about one of the worst things a VPN could do, in fact.
As the 'RuNet' continues to close in, good VPNs are going to become more and more important for ordinary Russians, but we cannot recommend Kaspersky Secure Connection to circumvent censorship in Russia – or anywhere else for that matter.
Hotspot Shield white-label
Security & Features
As Kaspersky's VPN is a white-label of Hotspot Shield, it makes use of the proprietary Catapult Hydra protocol. Kaspersky lacks advanced security features, but does at least include a kill switch.
Protocols

Proprietary

Encryption

AES-128
AES-256

Security

VPN Kill Switch

Advanced features

None
Kaspersky makes use of Hotspot Shield's proprietary Catapult Hydra VPN protocol.
We're unsure about this choice. The amount of information known about this protocol is very small, and more established, open-source protocols like OpenVPN or IKEv2 have had longer to prove their efficacy and security.
Catapult Hydra has also had some serious flaws exposed in the past.
The encryption being used is the best available, though: AES-256. Kaspersky VPN also passed our IP and DNS leak tests with flying colours, as you can see below (we are connecting to a Ukrainian server from our office in London):
There aren't really many advanced security features here, which is disappointing. There is a kill switch, though, which we consider essential.
Just about the only option available through the Settings menu is toggling off Kaspersky's additional data collection, which we absolutely recommend doing.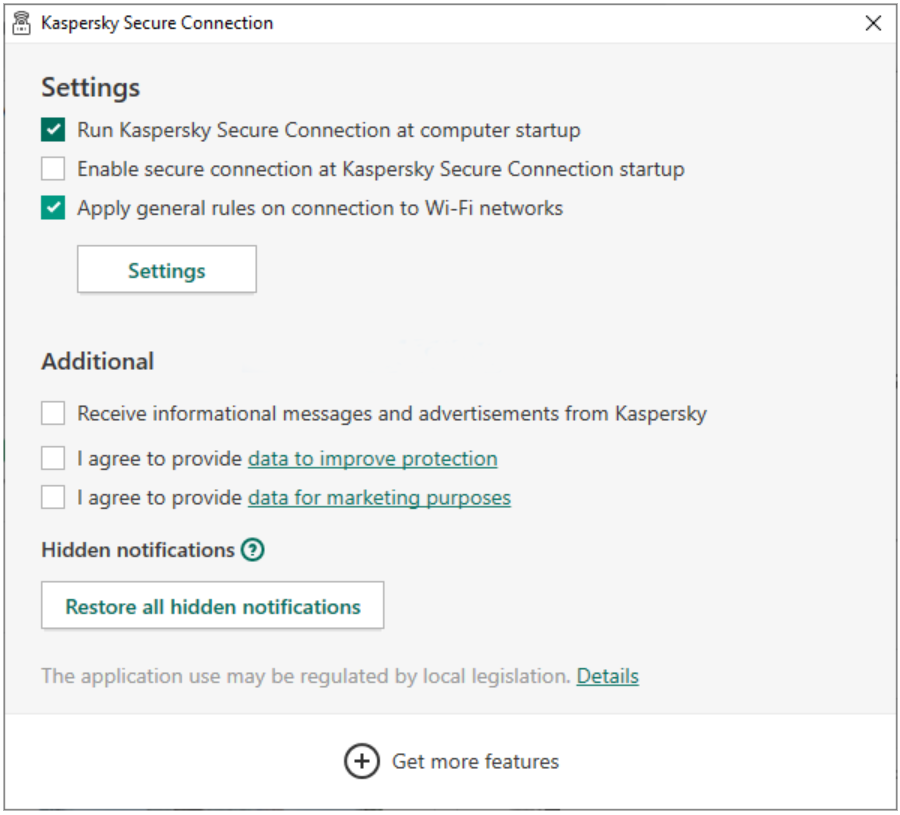 The desktop app does include an option to automatically connect when you join an insecure WiFi network, though, which is nice.
The app doesn't yet include Wireguard.
Just covers the basics
Device Compatibility
Kaspersky maintains native VPN apps for iOS, Mac, Android and Windows.
Apps
Windows

Mac

iOS

Android
Kaspersky Secure Connection covers the basic platforms we expect from any VPN:
Microsoft Windows
Apple macOS
Apple iOS
Google Android
There isn't a Linux app available, and there is no way to install the VPN on a router.
Setup is slightly different on each platform, but on-screen instructions make it an easy process on all of them.
Kaspersky lets you install its VPN on up to five devices with the premium VPN adn unlimited with free (but the data cap is shared).
While some VPN providers implement this limit by allowing only five simultaneous connections, Kaspersky keeps track of the five devices connected, which is disappointing from a privacy perspective.
Because Kaspersky VPN can't be installed on a router there aren't really any work-arounds, either. Console users will need to look elsewhere – Private Internet Access would be a good alternative.
There aren't any Kaspersky browser extensions for Mozilla Firefox, Google Chrome, Apple Safari, or Microsoft Edge, either.
Without a dedicated app or a browser extension, you also won't be able to install it on your Chromebook.
User-freindly apps
Ease of Use
All Kaspersky's apps are clearly laid out with a conventional VPN design. As a consequence they are very easy to use, but they also lack advanced options or features.
How to Install & Set Up Kaspersky VPN Secure Connection
Ease of Use Rating: 7.0/10
The user interface is consistent across all the apps and pretty intuitive to use.
It features a now standard on/off switch in its centre, with a simple country select field and hides everything else behind a menu button in the top-left.
That said, there isn't much to get wrong with such a bare-bones VPN.
Kaspersky has lots of room to add common features here – things like displaying the new IP address or the protocol being used – but it hasn't.
Some VPNs over-clutter their apps, but Kaspersky has gone the other way and given absolutely nothing to its users.
Limited, corporate, and difficult to navigate
Customer Support
Kaspersky lacks the instant, effective user support of smaller, more focused VPN products. It does offer FAQs and a ticket system, but no live-chat.
| | |
| --- | --- |
| Email | Yes |
| Email support via an online form | Yes |
| Online Resources | Yes |
The online customer support resources are comprehensive but very difficult to find and navigate in many cases more likely to confuse than help.
There is also a ticket system for sending questions to Kaspersky customer services, which is good but falls short of most large providers which have a live chat option.
We found this system generally takes at least a day to give you a response. On one occasion we were even then told to call up an operator instead.
Our experience using Kaspersky customer support was really disappointing. Sadly it just isn't up to scratch with some of the leading VPN providers.
In particular we found the absence of any kind of live chat lacking.
Great value for these speeds
Price & Value
Kaspersky is a fairly cheap VPN, especially on loger subscriptions. It does lack the functionality to really be called good value, though.
On the flip side, one strength of Kaspersky VPN is that it is really good value for the kind of speeds it achieves worldwide.
Kaspersky offers a free version, which limits you to just 200MB per day. This seems very small but can add up to around 6GB a month – which isn't shabby when compared to some other free trials around.
You can boost this up to 300MB per day if you connect it to your My Kaspersky account, too.
Paid plans start at $9.99 a month, but the real savings are to be made with a yearly plan, which costs the equivalent of just $2.50 a month.
This makes Kaspersky one of the cheapest VPNs we've reviewed. If it had a better logging policy it may have even made our best cheap VPN list.
If you're looking for a complete security suite, there's also the option of getting Kaspersky Secure Connection bundled in with other security software, such as its anti-virus or password manager.
Monthly

US$0.00/mo

Free Plan - Limited to 200MB of data per day (300MB if linked to a My Kaspersky account)
Payment & Refund Options
Mastercard

PayPal

Visa
Kaspersky is pretty traditional as far as payment options go: just credit/debit card or PayPal. There's no option for anonymous payment methods like cryptocurrency.
For users in the US and UK you have a 30 day money back guarantee, which allows you to tru the service before commiting.
Comes with too much unsafe baggage
The Bottom Line
Kaspersky offers a decent value VPN service, especially if you are happy with a stripped-down version of Hotspot Shield. But we don't like its logging policy, and there are a few vital features which are just missing.
There are other VPNs available for a similar price mark which offer a better service and less baggage than Kaspersky Secure Connection VPN.
Alternatives to Kaspersky VPN Secure Connection
Hotspot Shield
Kaspersky is built on Hotspot Shield but lacks some of its key features and has a much smaller server network. If you like Kaspersky's speeds, but are looking for a better all round performer, Hotspot Shield is a great choice. Read Hotspot Shield review
PrivateVPN
It's in the same price bracket as Kaspersky, but PrivateVPN has a lot more to offer. For a start its a no-logs provider. It also has a great server network across 59 countries, and works reliably with both BBC iPlayer and Netflix. Read PrivateVPN review
---
User Feedback for Kaspersky VPN Secure Connection