Disclosure: Top10VPN is editorially independent. We may earn commissions if you buy a VPN through links on our site.
A trustworthy VPN with a great logging policy
Logging & Jurisdiction
Despite being registered in Sweden, AzireVPN has a strict zero-logs policy. This is exactly what you should expect from a privacy focused VPN.
AzireVPN was founded in 2012 and is owned by Swedish company Netbouncer AB.
Linus Larsson is the co-founder and CEO of the company; he also co-founded Nessla AB, which provides web building services.
The Netbouncer AB office is located in central Stockholm, and AzireVPN encourages users to visit the team, providing a full address on the website. This is really uncommon in the VPN industry and demonstrates AzireVPN's commitment to transparency.
Speaking of which, AzireVPN publishes a regular warrant canary to assure users that "up to this point, no warrants have been served, nor have any searches or seizures taken place at any Netbouncer AB location or involving any Netbouncer AB personnel."
Having said that, AzireVPN's Swedish jurisdiction is a negative for privacy – it's part of the 14-Eyes intelligence-sharing alliance and is a member of the EU, which also engages in data sharing.
In order to find out what that means for you and the rest of AzireVPN's users, read on.
Logging Policy
Despite AzireVPN's incorporation in a not-so-privacy-friendly nation, its strict no-logs policy more than makes up for it.
AzireVPN is very clear that it does not log:
Online activities
IP addresses
Timestamps
Number of active sessions
So even if the Swedish authorities requested user information, AzireVPN couldn't hand any VPN logs over.
In fact, AzireVPN's policy says that it "will never share or sell your Personal Data with any third parties."
The VPN service does monitor its servers 24/7 for "uptime, general usage, and latencies," but this can't be tied back to an individual user.
You can trust AzireVPN with your privacy.
Fast on nearby VPN servers, mediocre across longer distances
Speed & Reliability
AzireVPN is a fairly fast VPN - fast enough for HD streaming and online gaming. It isn't as fast as the best VPNs, though.
AzireVPN is neither really fast, nor really slow.
On same-country connections, performance barely dropped from our normal internet speeds, which is great, but connecting to VPN servers located further away, such as UK to US, was much less impressive.
Local Speed Test results before using AzireVPN:
Download Speed: 91.43Mbps
Upload Speed: 98.31Mbps
Ping: 7ms
Local Speed Test results with AzireVPN:
Download Speed: 85.8Mbps
Upload Speed: 94.29Mbps
Ping: 7ms
Download speed loss when AzireVPN is running: 6%
As you can see, ping times were pretty quick, which is a plus for gamers.
Here are the download and upload speeds we recorded to global VPN server locations:
USA: 27Mbps (download) & 54Mbps (upload)
The Netherlands: 61Mbps (download) & 76Mbps (upload)
Canada: 20Mbps (download) & 8Mbps (upload)
If you're located near one of AzireVPN's servers you shouldn't worry about speeds, but if you have to or want to connect to far away destinations, it'll be quick enough for browsing and light streaming only.
If speed is your number one priority then you need to take a look at the fastest VPNs according to our testing.
Limited server locations
Server Locations
AzireVPN underperforms on its server locations. With the exception of it's Thailand server, the network is restricted to North America and Europe.
Undisclosed number ofIP Address
Despite being over 10 years old, AzireVPN's server network is very small.
AzireVPN has just 32 VPN servers in eight countries:
Canada
Netherlands
Norway
Spain
Thailand (WireGuard protocol only)
Sweden – two cities (Gothenburg is WireGuard protocol only)
UK
US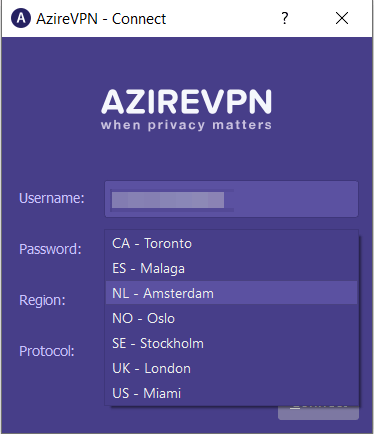 As frustrating as this may be if you're located in other parts of the world, there's a good reason for Azire's tiny network.
AzireVPN owns all of its hardware, in all of its locations, including bare metal dedicated servers and switches. The AzireVPN team personally brings the hardware to the desired location and installs it. There are no rented virtual servers, either.
We love Azire's transparency surrounding its server installation process and tight security requirements, which you can read all about on its website. It's one of the best approaches we've seen from any VPN.
Decent streaming options
Streaming
AzireVPN worked to unblock both US Netflix, BBC iPlayer, and Hulu in our recent tests, but it's been unreliable in the past.
While we could watch US Netflix and BBC iPlayer during our latest tests, AzireVPN has been unreliable in the past.
The issue is Azire's tiny VPN server network. Both Netflix and BBC iPlayer – as well as Hulu, Disney+, Amazon Prime Video, and Sky – are really effective at cracking down on VPN services.
These streaming platforms block IP addresses they deem to belong to a VPN service and only once the VPN brings out new IP addresses can users access their favorite content.
AzireVPN having such a small server network and a fairly limited range of IP addresses means that it's just not geared towards unblocking streaming content. Its focus is very much on privacy instead.
Is streaming your favorite shows and movies from all over the world your priority? Consider one of our top-rated VPNs for streaming instead.
AzireVPN is a poor choice for torrenting. It's P2P speeds are slow and it doesn't include an all important kill switch.
AzireVPN does permit P2P traffic on all of its servers, but it's still not a great VPN for torrenters.
While AzireVPN is a very private VPN, it lacks a VPN kill switch, which is an essential feature for torrenting.
Without it, your IP address and online activities could be exposed to your ISP should the VPN connection temporarily drop.
The P2P speeds were also week in our tests: down from 10 MiB/s without a VPN to just 3.4 MiB/s with Azire connected.
Take a look at our ExpressVPN review if you want to see what an ideal VPN for torrenting looks like.
Inadequate solution for China
Bypassing Censorship
AzireVPN didn't work when we attempted to use it from out Shanghai server.
AzireVPN is unable to bypass the Great Firewall of China.
China aggressively blocks VPN connections and without special obfuscation tools it's unlikely that AzireVPN will be able to fly under the radar.
There's also the issue of Azire's tiny VPN server network, which would lead to poor speeds as users attempt to connect over long distances to the nearest server.
If you're based in or travelling to the region then try one of the highest-rated VPNs for China instead.
It might work in other censored regions, though.
Strong encryption, but the missing kill switch is inexcusable
Security & Features
AzireVPN is properly encrypted with industry standard AES-256 encryption, but it desperately needs a kill switch to safeguard this security.
Protocols

OpenVPN (TCP/UDP)
WireGuard

Encryption

AES-256

Security

First-party DNS
Supports TCP Port 443

Advanced features

SOCKS
AzireVPN goes above and beyond to make its server network as secure as possible, but the actual VPN apps are lacking in one fundamental security feature: a VPN kill switch.
This essential feature ensures that none of your personal information is leaked in the event of a sudden drop in the VPN connection.
AzireVPN has failed to include a kill switch in its apps. The VPN service does so much else right, but we can't overlook the omission of such an important tool.
AzireVPN uses OpenVPN for both the Windows and macOS apps, which is our preferred VPN protocol. It's open-source, super secure, and well-tested.
AES-256 is the cipher that AzireVPN uses alongside OpenVPN to encrypt internet traffic, and that's widely considered as good as it gets.
AzireVPN also provides WireGuard support, which not many VPN services currently do.
WireGuard is a new VPN protocol that aims to be faster and more secure than the current standards, like OpenVPN, but it's still in a heavy stage of development.
This means that WireGuard should be treated as experimental only. Currently AzireVPN's custom Android app runs exclusively on WireGuard, but you can manually configure the protocol on macOS, iOS, and Linux devices too.
AzireVPN is also one of the only VPN services to provide IPv6 support, which prevents IPv6 leaks.
We didn't experience any IP, DNS, or WebRTC leaks in our tests, so the technology is certainly all working:
If it weren't for the lack of VPN kill switch, AzireVPN would be a really safe and secure VPN service.
Custom VPN apps for Windows, macOS & Android
Device Compatibility
AzireVPN includes apps for all popular operating systems including Mac, PC, iOS, Android, Linux, and is router-compatibile.
Apps
Windows

Mac

iOS

Android

Linux

Router
AzireVPN builds custom VPN apps for:
Windows
macOS
Android
Linux
You may have noticed a glaring omission there, and it's not that we forgot it. There really is no AzireVPN app for iOS (though one is currently in beta testing) – but you can still set it up manually on your iPhone if you really want to.
There are no browser extensions available, either, but you can use AzireVPN on up to five devices at once under one subscription.
It's worth noting that the Android app is WireGuard-only. While we generally recommend OpenVPN, Wireguard is fast becoming an industry standard.
We talk more about that a bit further down the page.
Games Consoles & Streaming Devices
Apple TV

Amazon Fire TV

Chromecast

Nintendo

PlayStation

Roku

Xbox
While AzireVPN doesn't provide any custom apps outside of those listed above, it is compatible with various router types – OpenWRT, DD-WRT, and pfSense.
If you install the VPN software at router level you'll be able to protect all internet-connected devices in your home.
That means you can protect your Amazon Fire TV Stick, Apple TV, Xbox, PlayStation, and anything else connected to your home router.
System tray app with minimal settings
Ease of Use
AzireVPN's custom apps are pretty simple to use, even if the user experience isn't as smooth as we'd like.
How to Install & Set Up AzireVPN
You can download AzireVPN's apps directly from its website, then it's just a case of clicking through the installation prompts.
The desktop apps don't have a separate login screen, rather you log in once you've selected a VPN server.
You then have to re-log in each time you want to connect to a new server, which becomes frustrating quickly. The VPN app doesn't remember your password, either.
Once you click 'Connect' the app minimizes to your system tray. The tray app is very minimal and doesn't even display which server location you're connected, let alone your new IP address.
There is no settings menu, either, and the only configurable option is choosing between a NAT IP address, which is shared with other users, or a public IP address, which is unique to you for the duration of your session.
AzireVPN needs a lot of work before it's as easy to use as some of our highest-scoring VPNs. Even a complete technophobe will find IPVanish easy to use, for example.
Good email support & some basic online resources
Customer Support
AzireVPN offers email support and online FAQs. Currently it lacks the live chat support offered by top-tier services.
| | |
| --- | --- |
| Email | Yes |
| Online Resources | Yes |
AzireVPN doesn't have live chat, which automatically puts it below a lot of the best VPN services when it comes to customer support.
There are some resources available on the website, including some setup guides and basic FAQs. There aren't any troubleshooting tips, though.
If you do you run into any issues or have more technical questions, there is email support.
While the replies are fairly slow we found the responses to be detailed and helpful – it's a shame you have to wait for them.
Very cheap, even on short-term plans
Price & Value
AzireVPN is a super affordable VPN. The service's limitations prevent it from being one of the best value VPNs, though.
Price & Value for Money Rating: 7.0/10
AzireVPN is very cheap on both short and long plans.
All prices are given in Euros on AzireVPN's website, and the monthly plan costs just €5 (~$5.55), which is one of the cheapest we've ever seen for a monthly rolling subscription.
There aren't big savings to be had for subscribing to a longer plan, though – you'll get 35% off for the two-year plan and 25% of the yearly one.
Payment & Refund Options
American Express

Mastercard

PayPal

Visa
AzireVPN accepts a range of payment methods including:
Credit and debit cards
PayPal
Cryptocurrencies including Bitcoin, Litecoin, and Monero
Cash
There's a seven-day money-back guarantee in case you change your mind. However, this is not available for the one-month package or for those who paid via cryptocurrency.
Do we recommend AzireVPN?
The Bottom Line
Not really. AzireVPN is a very private VPN that clearly makes an effort to uphold high standards of server security, but it still lacks some basic features.
The server network is very small, the speeds as underwhelming, and there's no VPN kill switch, which brings down the level of security offered.
It is a good VPN if you'd like to experiment with WireGuard, but you can find a better provider for everyday use – we recommend starting with the two recommended below.
Additional research by Liam Mullally
Alternatives to AzireVPN
CyberGhost
CyberGhost is even cheaper than AzireVPN on its longest plan, and it's great for both streaming and torrenting. It maintains a no-logs policy and has 24/7 live chat support for all your burning questions. Read CyberGhost review
Private Internet Access
If you have a need for speed, Private Internet Access is one of the fastest VPNs around. It's also super private, and comes with all the necessary security features. Read Private Internet Access review
---
User Feedback for AzireVPN