Why Doesn't Hola VPN Work in China?
As of February 2022, Hola Free VPN will not even run on our China test server, let alone work to access a free internet. Previously it would run, but would not work to bypass the Great Firewall. When we attempted to open Hola's Windows program, this is the error message we were repeatedly shown: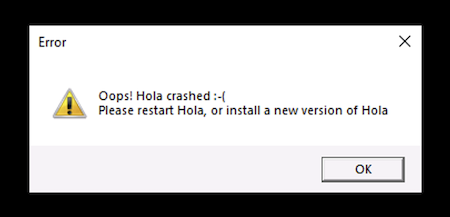 We test VPNs from this server weekly, and only a few are able to overcome Chinese state censorship.
When the application does manage to run, Hola doesn't work in China because it simply hasn't got the tools to circumvent the Great Firewall. A VPN needs extremely secure encryption and advanced security measures like obfuscation in order to beat the Chinese government's censors.
Hola doesn't encrypt your data, it offers no obfuscation technology, and it leaks your IP address.
This is largely due to the fact that Hola Free VPN isn't a real VPN. It's a proxy service.
Here's a more detailed look at Hola's Free 'VPN' and the reasons why it doesn't work in China.
1

Hola Isn't a VPN

Hola Free VPN isn't actually a proper VPN. It's a peer-to-peer proxy network that throws the IP address of every user into a communal pool. You're then randomly assigned one of these IP addresses to route your connection through.

Unlike most VPN providers, Hola isn't letting you connect to its own VPN servers. Instead, you're using other peoples' internet connections as proxy servers. You browse the internet from their location and unblock online content that is available in their geographic region. In return, you let other people use your IP address for their activity.

Because Hola VPN is more like a proxy server than a full VPN, it'll only reroute traffic from within the browser. While a proper VPN protects everything you do on your device, Hola Free VPN only hides your IP address for browser-based activity. Anything done on an external application, like an email app or torrenting client, is not protected.

Read our complete guide to learn more about the differences between VPNs and proxy servers.
2

It Doesn't Encrypt Your Data

The very least you need for a VPN service to work in China is traffic encryption. But, unsurprisingly, Hola Free VPN uses no encryption whatsoever.

Instead of securing your data with a safe cipher like AES, Hola simply routes your connection through a network of 'peers' in order to hide your IP address and spoof your location.

Not only is this a danger to your privacy and security, it also leaves your online activity visible to surveillance systems like the Great Firewall of China.

With a clear view of the websites you're visiting, the censors are able to easily block your connection. Just as they would with other non-VPN traffic.
3

No Traffic Obfuscation

Often, even unbreakable encryption isn't enough to bypass the Great Firewall of China. VPNs also need to use obfuscation technology in order to hide from deep packet inspection (DPI).

Obfuscation camouflages VPN traffic so that it becomes indistinguishable from regular HTTPS traffic. This prevents the Chinese censors from being able to use DPI to identify VPN-like behavior in your connection and then blocking it.
Hola Free VPN does not use any form of obfuscation and so is useless for bypassing censorship in China.
Hola doesn't offer any other essential security features, like a VPN kill switch or leak protection, either.
Our latest round of tests found that Hola VPN leaks your true IP address through WebRTC leaks. This is particularly worrying in a place like China, where using a VPN is illegal and punishable with a fine of up to $2,200.
EXPERT TIP: The Great Firewall can also block VPN use by blacklisting the IP addresses of VPN servers. A VPN (or proxy service) needs to have a large server network in order to work reliably in China. Hola's server network is unreliable and always changing. It depends entirely on how many 'peers' are connected at the time of use, and where they're located.